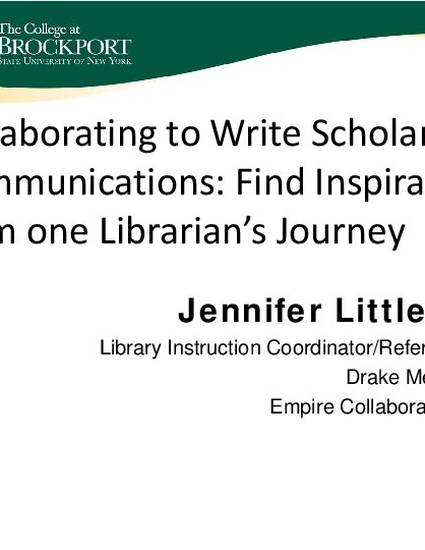 Presentation
Collaborating to Write Scholarly Communications: Find Inspiration from one Librarian's Journey
Library Publications
Document Type
Presentation
Publication Date
6-11-2014
Abstract
During this session perspective authors will learn how one librarian wrote and published articles, as a sole author, co-author and with a group of authors. Creative opportunities and projects abound on a college campus; the harder part is converting these projects into publishable material. Learn how to take ideas and projects and publish them in scholarly journals as a librarian. Bring your own ideas and/or drafts, and we will work on them together. We will also identify publishing opportunities: both "traditional" journals and open access titles and provide links for more information.
Citation Information
Little Kegler, J. (2014, June). Collaborating to Write Scholarly Communications: Find Inspiration from one Librarian's Journey. Presentation at the SUNYLA Annual Conference, Albany, NY.