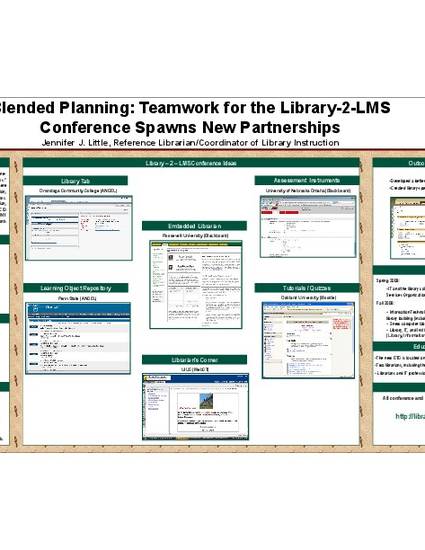 Presentation
Blended Planning: Teamwork for the Library-2-LMS Conference Spawns New Partnerships
Library Presentations
Document Type
Presentation
Publication Date
3-1-2009
Abstract
In 2008 the College at Brockport's library and Information Technology (IT) staff stirred up a successful one-day conference: "Integrating Library Services into Learning Management Systems." This session will describe the details for planning the conference as well as the practical ideas generated by presenters and participants. It will also show how the library and IT departments' collaboration created unexpected, yet long-term, benefits.
Citation Information
Little, J. (2009, March). Blended planning: Teamwork for the Library-2-LMS conference spawns new partnerships. Poster presentation at the ACRL National Conference, Seattle, WA.