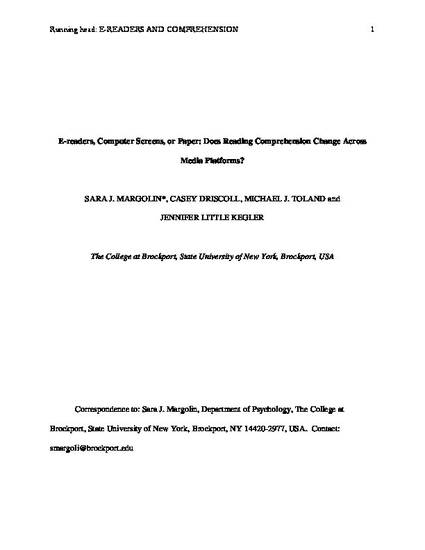 Article
E-readers, computer screens, or paper: Does reading comprehension change across media platforms?
Library Publications and Presentations
Publication Date
1-1-2013
Abstract
The present research examined the impact of technology on reading comprehension. While previous research has examined memory for text, and yielded mixed results of the impact technology has on one's ability to remember what they have read, the reading literature has not yet examined comprehension. In comparing paper, computers, and e-readers, results from this study indicated that these three different presentation modes do not differentially affect comprehension of narrative or expository text. Additionally, readers were not consistently compensating for difficulties with comprehension by engaging in different reading behaviors when presented with text in different formats. These results suggest that reading can happen effectively in a variety of presentation formats.
Citation Information
Sara J. Margolin, Michael J. Toland, Casey Driscoll and Jennifer Little Kegler. "E-readers, computer screens, or paper: Does reading comprehension change across media platforms?" (2013)
Available at: http://works.bepress.com/jennifer_kegler/15/