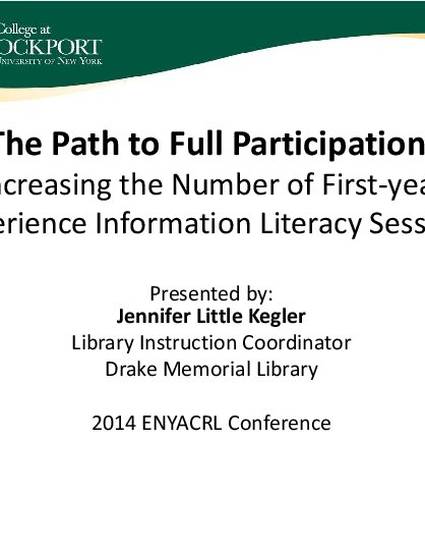 Presentation
The Path to Full Participation: Increasing the Number of First-year Experience Information Literacy Sessions
Library Presentations
Document Type
Presentation
Publication Date
5-1-2014
Abstract
Learn how a new library instruction coordinator increased the participation of first-year experience sections from less than 10 percent to almost 100 percent over a 7 year period. In 2005 the number of first-year experience classes had dropped to an all-time low, averaging 5 out of 55 total sections. The traditional "library tour" was outdated, embedded sessions in an introductory communications class had been tried for one year and failed, and librarians were frustrated at the lack of involvement with first-year students. Instruction librarians worked together to design a more engaging information literacy session for the first-year experience sections. Strategies included involvement with the training of the first-year experience faculty, an "assignment" built on the common first-year reading book, and a more hands-on opportunity for the students. Although the sessions evolve each year, the participation rate is at almost one hundred percent, a positive first step in information literacy for every student. After the session examples of the assignment (and its evolution), the assessment measures, and plans for the future, including online material, will be provided.
Citation Information
Little Kegler, J. (2014, May). The path to full participation: increasing the number of first-year experience information literacy sessions. Presentation at the ENYACRL conference, Oswego, NY.