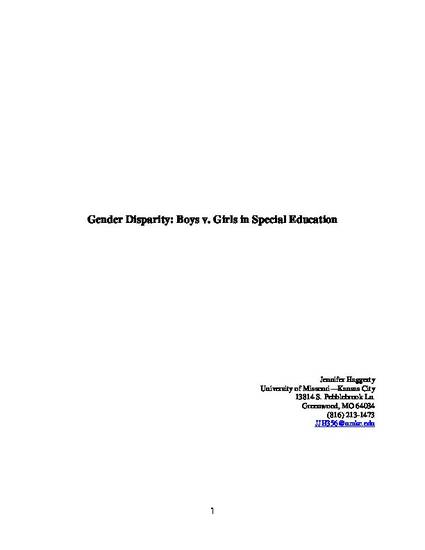 Unpublished Paper
Gender Disparity: Boys v. Girls in Special Education
ExpressO (2009)
Abstract
Gender Disparity: Boys v. Girls in Special Education discusses why boys outnumber girls in special education classes in a ratio of 2:1. Gender disparity in special education is a severe problem which is increasing as there are relatively few male educators. Male educators are needed in the educational system to counteract female teachers' tendencies to send male students to special education based upon behavioral characteristics, not upon educational disabilities.
Individuals with Disabilities Education Act (IDEA), formally known as the Education for All Handicapped Children Act of 1975 (EHA), poses several requirements of schools regarding students eligible for special education. One requirement is the Least Restrictive Means. To state simply, this requirement enforces the premise that if it is possible for a disabled student to be placed in general education classes with the help of aids and supplemental material, then this should be done. If however, the disabled students are in fact deterring from the other students abilities to learn appropriately then disabled children will need to be placed in a separate special education classroom.
However, this does not counteract the predisposition of female teachers to refer male students, based upon behavioral problems, to special education classes. Currently, there is no deterrent effect in force to prevent female teachers from referring a disproportionate number of male students to special education classes solely based upon their behavior. The courts are of little help due to the fact that there is no recourse for parents in the court system because teachers and school officials are deemed excluded from educational malpractice. Therefore, there is no incentive for a female teacher to not refer a child to a special education classroom based upon behavioral problems.
In short, gender disparity is a problem that is quickly growing in intensity. Without recourse in the court system, indemnity from educational malpractice coupled with the lack of male educators in the classroom, gender disparity in the classroom is only going to increase. This is a problem which needs to be addressed immediately both by educators and by the law.
This article will discuss the shocking statistical data as to the vast disparity between the sexes in special education classes as well as how a child gets referred to special education classes in the first place. There are three main theories scholars have identified to answer the question as to why there are more boys than girls in special education classes. These theories will be discussed and explored in turn. Each theory suggests that gender disparity not only has dire consequences on the dominate male gender but also on the underrepresented females. If a teacher feels that a female child is in need of special education classes, she might not get referred due to the fear that they will suffer from isolation and thus will suffer both physically and emotionally. Therefore, female students who are in actual need of these classes, will further suffer because they are being denied the education they are required to by law.
Further, "Gender Disparity" will set forth extra guidelines which IDEA should address and incorporate into their statute as well as a discussion about sex segregation in schools under Title IX. While educators may not be knowingly or intentionally sex segregating their students, sex segregation is exactly what they are accomplishing. As a result classrooms are dominated by male students.
Jennifer Haggerty 3rd Year Law Student University of Missouri at Kansas City JJH356@umkc.edu (816) 213-1473
Keywords
gender,
gender disparity,
children,
gender and justice,
special education
Publication Date
October 10, 2009
Citation Information
Jennifer J. Haggerty. "Gender Disparity: Boys v. Girls in Special Education"
ExpressO
(2009)
Available at: http://works.bepress.com/jennifer_haggerty/1/