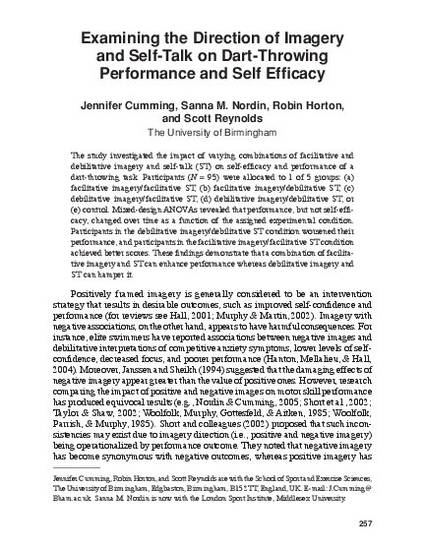 Article
Examining the Direction of Imagery and Self-Talk on Dart-Throwing Performance and Self Efficacy
The Sport Psychologist (2006)
Abstract
The study investigated the impact of varying combinations of facilitative and debilitative imagery and self-talk (ST) on self-effi cacy and performance of a dart-throwing task. Participants (N = 95) were allocated to 1 of 5 groups: (a) facilitative imagery/facilitative ST, (b) facilitative imagery/debilitative ST, (c) debilitative imagery/facilitative ST, (d) debilitative imagery/debilitative ST, or (e) control. Mixed-design ANOVAs revealed that performance, but not self-effi - cacy, changed over time as a function of the assigned experimental condition. Participants in the debilitative imagery/debilitative ST condition worsened their performance, and participants in the facilitative imagery/facilitative ST condition achieved better scores. These fi ndings demonstrate that a combination of facilitative imagery and ST can enhance performance whereas debilitative imagery and ST can hamper it.
Keywords
Self-talk,
imagery,
self-efficacy,
performance
Citation Information
Jennifer Cumming, Sanna M. Nordin, Robin Horton and Scott Reynolds. "Examining the Direction of Imagery and Self-Talk on Dart-Throwing Performance and Self Efficacy"
The Sport Psychologist
Vol. 20 (2006)
Available at: http://works.bepress.com/jennifer_cumming/26/