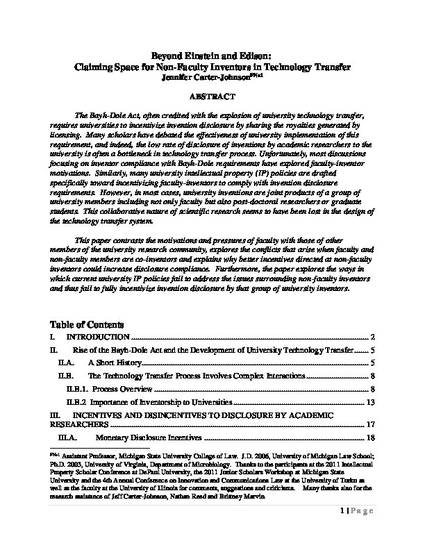 Unpublished Paper
Beyond Einstein and Edison: Claiming Space for Non-Faculty Inventors in Technology Transfer
ExpressO (2012)
Abstract
The Bayh-Dole Act, often credited with the explosion of university technology transfer, requires universities to incentivize invention disclosure by sharing the royalties generated by licensing. Many scholars have debated the effectiveness of university implementation of this requirement, and indeed, the low rate of disclosure of inventions by academic researchers to the university is often a bottleneck in technology transfer process. Unfortunately, most discussions focusing on inventor compliance with Bayh-Dole requirements have explored faculty-inventor motivations. Similarly, many university intellectual property (IP) policies are drafted specifically toward incentivizing faculty-inventors to comply with invention disclosure requirements. However, in most cases, university inventions are joint products of a group of university members including not only faculty but also post-doctoral researchers or graduate students. This collaborative nature of scientific research seems to have been lost in the design of the technology transfer system.
This paper contrasts the motivations and pressures of faculty with those of other members of the university research community, explores the conflicts that arise when faculty and non-faculty members are co-inventors and explains why better incentives directed at non-faculty inventors could increase disclosure compliance. Furthermore, the paper explores the ways in which current university IP policies fail to address the issues surrounding non-faculty inventors and thus fail to fully incentivize invention disclosure by that group of university inventors.
Publication Date
September 11, 2012
Citation Information
Jennifer Carter-Johnson. "Beyond Einstein and Edison: Claiming Space for Non-Faculty Inventors in Technology Transfer"
ExpressO
(2012)
Available at: http://works.bepress.com/jennifer_carter-johnson/1/