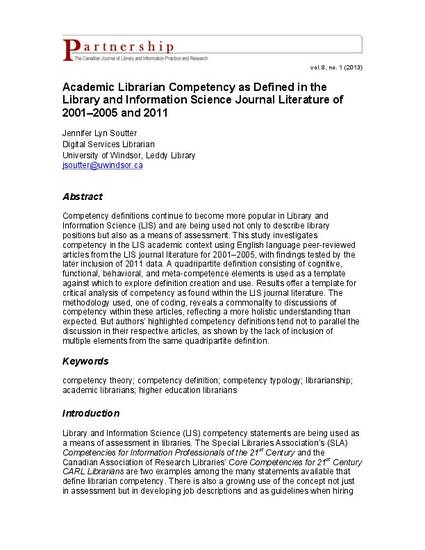 Article
Academic Librarian Competency as Defined in the Library and Information Science Journal Literature of 2001–2005 and 2011
Partnership: the Canadian Journal of Library and Information Practice and Research
Publication Date
1-1-2013
Keywords
competency theory,
competency definition,
competency typology,
librarianship,
academic librarians,
higher education librarians
Abstract
Competency definitions continue to become more popular in Library andInformation Science (LIS) and are being used not only to describe librarypositions but also as a means of assessment. This study investigatescompetency in the LIS academic context using English language peer-reviewedarticles from the LIS journal literature for 2001‒2005, with findings tested by thelater inclusion of 2011 data. A quadripartite definition consisting of cognitive,functional, behavioral, and meta-competence elements is used as a templateagainst which to explore definition creation and use. Results offer a template forcritical analysis of competency as found within the LIS journal literature. Themethodology used, one of coding, reveals a commonality to discussions ofcompetency within these articles, reflecting a more holistic understanding thanexpected. But authors' highlighted competency definitions tend not to parallel thediscussion in their respective articles, as shown by the lack of inclusion ofmultiple elements from the same quadripartite definition.
Citation Information
Jennifer Soutter. "Academic Librarian Competency as Defined in the Library and Information Science Journal Literature of 2001–2005 and 2011"
Partnership: the Canadian Journal of Library and Information Practice and Research
Vol. 8 Iss. 1 (2013) p. n.p.
Available at: http://works.bepress.com/jennifer-soutter/2/