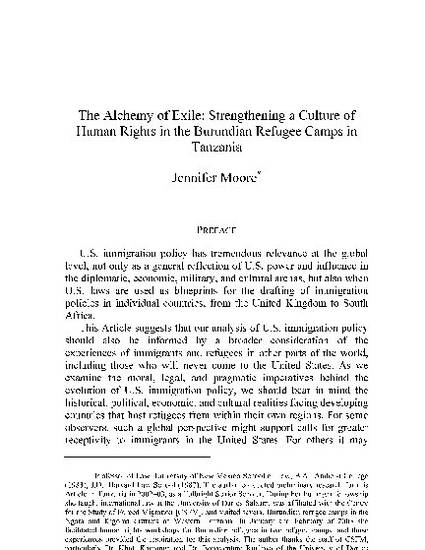 Article
The Alchemy of Exile: Strengthening a Culture of Human Rights in the Burundian Refugee Camps in Tanzania
Washington University Journal of Law and Policy
Publication Date
1-1-2008
Abstract
This Article suggests that our analysis of U.S. immigration policy should also be informed by a broader consideration of the experiences of immigrants and refugees in other parts of the world, including those who will never come to the United States. As we examine the moral, legal, and pragmatic imperatives behind the evolution of U.S. immigration policy, we should bear in mind the historical, political, economic, and cultural realities facing developing countries that host refugees from within their own regions. For some observers, such a global perspective might support calls for greater receptivity to immigrants in the United States. For others it may suggest the need for scholars and policy makers to more effectively address the root causes of migration, including the impacts of economic globalization, poverty, armed conflict, political repression, and political change in diverse countries and localities throughout the world. Enhanced attention to humanitarian assistance, poverty alleviation, and human rights protections for refugees in regions such as East Africa, the setting for this Article, will allow the United States to participate more actively in conflict resolution in the developing world. Such constructive interventions may also have a creative impact on the political, socio-economic, and human dynamics that bring many immigrants and refugees to the United States.
Citation Information
Jennifer Moore. "The Alchemy of Exile: Strengthening a Culture of Human Rights in the Burundian Refugee Camps in Tanzania"
Washington University Journal of Law and Policy
Vol. 27 (2008)
Available at: http://works.bepress.com/jennifer-moore/23/