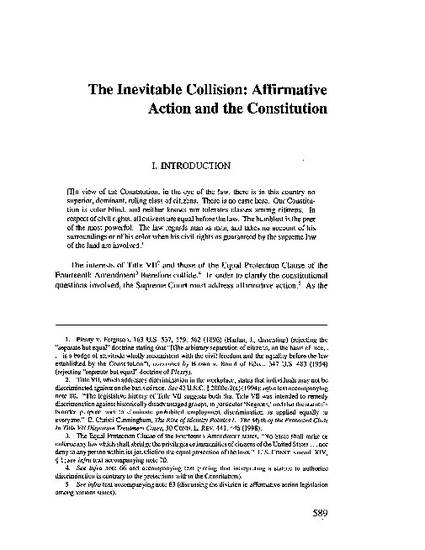 Article
The Inevitable Collision: Affirmative Action and the Constitution
Pepperdine Law Review
Publication Date
12-1-1998
Abstract
This Comment, like a traditional Comment regarding affirmative action, will provide analysis pertaining to the historical events that shaped modem affirmative action policies. However, this Comment will also examine the recent settlement of Taxman v. Board of Education, a most intriguing display of political maneuvering which remains shrouded in controversy." Taxman would have presented the upreme Court with an ideal lens through which to examine the constitutionality of affirmative action. However, as a result of industrious manipulation, the Court narrowly missed that opportunity. Because a live controversy no longer exists, this Comment will focus on the Supreme Court's lost chance to interpret the Constitution and articulate the appropriate legal principles raised in Taxman." Although a case of similar content will inevitably reach the Supreme Court, the Court's unavoidable and unfortunate silence regarding the issues in Taxman necessitates an additional term where civil rights legislation lacks a definitive mandate.'8 Taxman would likely have confirmed that Title VII and the Constitution are currently in conflict and hence, require resolution. Unfortunately, that inevitable conclusion, along with true equality, must wait.
Citation Information
Jennifer Moore. "The Inevitable Collision: Affirmative Action and the Constitution"
Pepperdine Law Review
Vol. 26 (1998) p. 589
Available at: http://works.bepress.com/jennifer-moore/22/