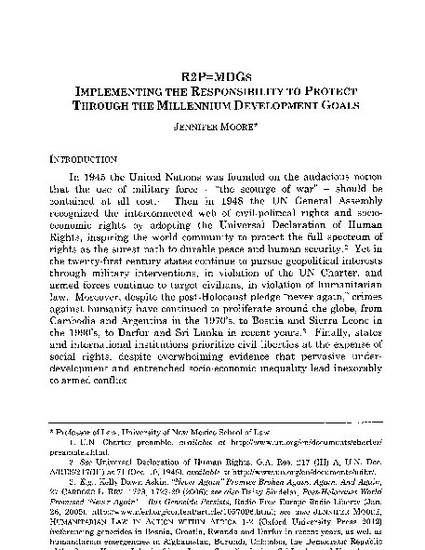 Article
R2P= MDGs: Implementing the Responsibility to Protect through the Millennium Development Goals
Denver Journal of International Law and Policy
Publication Date
1-1-2012
Abstract
This essay is a peaceful call to arms based on the understanding that an essential way to fight the most egregious and widespread human rights abuses is through a broad-spectrum approach to human security grounded in the Millennium Development Goals and a new, non-military, understanding of humanitarian intervention. The responsibility to protect, often cited as a justification for military force to stop genocide, crimes against humanity, and other widespread human rights abuses, is better seen as a commitment by all nations to strengthen their own social welfare and human rights systems, and for those nations with more resources to assist those with less to do the same. Section A below reviews the United Nations' early emphasis on constraining the use of military force and promoting human rights in both civil-political and socio-economic terms. Section B contrasts the prevailing contemporary responses of the international community to varying types of human rights abuses. Section C focuses on two important twenty-first century developments in international law: the responsibility to protect (R2P) and the Millennium Development Goals (MDGs). I conclude by arguing that a socio-economic vision of humanitarian intervention provides the international community with a vital opportunity to return to first principles regarding the meaning of human dignity and security.
Citation Information
Jennifer Moore. "R2P= MDGs: Implementing the Responsibility to Protect through the Millennium Development Goals"
Denver Journal of International Law and Policy
Vol. 40 Iss. 1 (2012)
Available at: http://works.bepress.com/jennifer-moore/19/