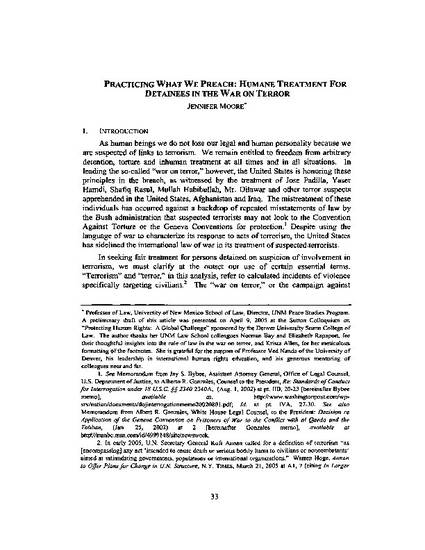 Article
Practicing What We Preach: Humane Treatment for Detainees in the War on Terror
Denver Journal of International Law and Policy
Publication Date
1-1-2006
Abstract
This article sets forth both principled and pragmatic arguments for the fair and humane treatment of all individuals detained in the war on terror derived from both U.S. and international law. Section II explores the human dimension of the "war on terror." Section IIA critiques the use of the metaphor of war to characterize counter-terrorism policy. Section IIB examines the experiences of several individuals apprehended by the United States on suspicion of involvement in terrorism, including the response of U.S. courts to their detention without charge as "unlawful combatants." Section III offers possible explanations for the phenomenon by which the United States and other nations denounce terror on the one hand, while engaging in torture, inhuman treatment and arbitrary detention of suspected terrorists on the other. Finally, Section IV explores and seeks to identify and define the abiding and universal norms of humane treatment, freedom from torture and due process as evidenced in the Geneva Conventions, the Convention Against Torture, contemporary social commentary, human rights advocacy and scholarly analysis.
Citation Information
Jennifer Moore. "Practicing What We Preach: Humane Treatment for Detainees in the War on Terror"
Denver Journal of International Law and Policy
Vol. 34 (2006) p. 33
Available at: http://works.bepress.com/jennifer-moore/1/