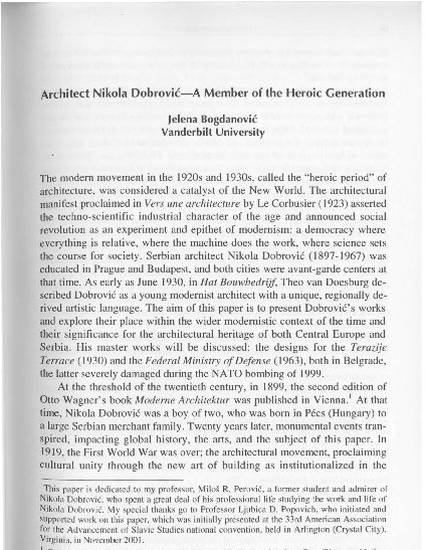 Article
Architect Nikola Dobrović—A Member of the Heroic Generation
Serbian Studies (2003)
Abstract
The modern movement in the 1920s and 1930s, called the "heroic period" of architecture, was considered a catalyst of the New World. The architectural manifest proclaimed in Vers une architecture by Le Corbusier (1923) asserted the techno-scientific industrial character of the age and announced social revolution as an experiment and epithet of modernism: a democracy where everything is relative, where the machine does the work, where science sets the course for society. Serbian architect Nikola Dobrovic (1897–1967) was educated in Prague and Budapest, and both cities were avant-garde centers at that time. As early as June 1930, in Hat Bouwbedrijf, Theo van Doesburg described Dobrovic as a young modernist architect with a unique, regionally derived artistic language. The aim of this paper is to present Dobrovic's works and explore their place within the wider modernistic context of the time and their significance for the architectural heritage of both Central Europe and Serbia. His master works will be discussed: the designs for the Terazije Terrace (1930) and the Federal Ministry of Defense (1963), both in Belgrade, the latter severely damaged during the NATO bombing of 1999.
Citation Information
Jelena Bogdanović. "Architect Nikola Dobrović—A Member of the Heroic Generation"
Serbian Studies
Vol. 17 Iss. 1 (2003)
Available at: http://works.bepress.com/jelena_bogdanovic/4/