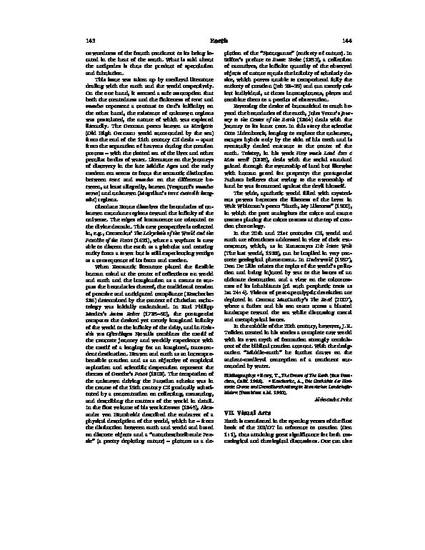 Contribution to Book
Earth, Visual Arts
Encyclopedia of the Bible and Its Reception
Document Type
Book Chapter
Publication Date
1-1-2013
Abstract
Earth is mentioned in the opening verses of the first book of the HB/OT in reference to creation (Gen 1 : 1), thus attaining great significance for both cosmological and theological discussions. One can also
find numerous references to earth in the books of Genesis, Exodus, Kings, Job, Psalms, Isaiah, the Gospels, the Apocrypha, and related religious texts of liturgical poetry, such as Christmas hymns and carols. References to earth may be related to the earthly realm and place of "God made manifest," as in the NT narrative of the nativity in the Gospels of Matthew and Luke. Earth also takes a prominent place in the narratives about the Apocalypse and the Last Judgment. In addition, earth is a natural entity with its appropriate topography (rocks, caves, waters) and natural phenomena (earthquakes, see Isa 24 : 19; winds, fires, and floods as in Noah's story, Gen 6–9). Earth is the soil and ground (see Gen 2 : 7), a cultivated space of abundance (see Gen 49 : 25); it is occasionally related to a city as the representative of nations and kingdoms of earth (see Jer 33 : 9 about Jerusalem) but also to the wandering wilderness and the desert (see Gen 4 : 12, 14; Job 38 : 26).
Copyright Owner
Walter de Gruyter
Date Available
2014-09-11
File Format
application/pdf
Citation Information
Jelena Bogdanović. "Earth, Visual Arts"
Encyclopedia of the Bible and Its Reception
Vol. 7 (2013) p. 144 - 147
Available at: http://works.bepress.com/jelena_bogdanovic/15/