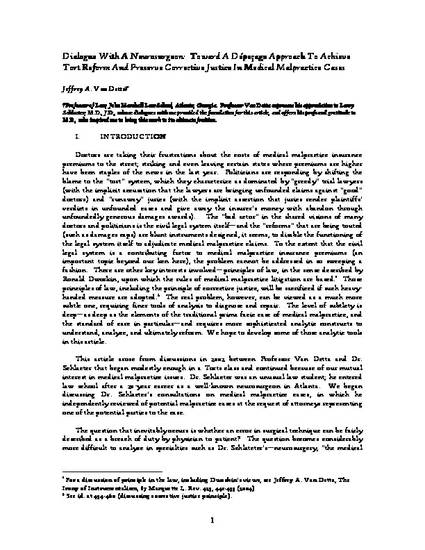 Unpublished Paper
Dialogue With A Neurosurgeon: Toward A Dépeçage Approach To Achieve Tort Reform And Preserve Corrective Justice In Medical Malpractice Cases
ExpressO (2009)
Abstract
This article is comprised of a dialogue between me, a law professor who teaches torts among a wide array of subjects, and an orthopedic neurosurgeon, who also happens to have been one of my torts students. Our objective is to focus our tort-reform analysis on common errors that occur in complex neurosurgery. We seek to provide a new paradigm both for measuring the standard of care in such malpractice cases and for adjudicating those cases. The dialogue is used as the basis for creating what I call a Dépeçage Model For Classification Of Errors And Resolution Techniques For The Medical Malpractice Claim Arising From That Error.
The severe logical and policy limitations unnecessarily created by our common-law legal system's treatment of all malpractice issues under the aegis of the law of negligence as administered in civil jury trials. My dialogue with the Neurosurgeon exposes their flaw. Distinguishing among and classifying the wide spectrum of errors in even a single neurosurgical procedure, errors that the law of negligence would crudely lump together as "malpractice," we see as great failing of the current medical malpractice litigation regime lies not in the caution of elected judges nor in the hands of mythical runaway juries. Rather, the problem lies in a system crying out intellectual for refinement, to ameliorate the crude "one-size-fit-all" brand of justice that leads to analytic dissonance – and thus common misunderstanding of the cause of seemingly abusive outcomes, whose flaw in fact resides in the inherit analytical penury of a system that predated modern malpractice claims and was never modified to meet the needs of such adjudication.
As counterpoint to the unitary litigation system a more meaningful approach is one that has two prominent features [1] categorizes and distinguishes among malpractice issues and [2] provides an array of dispute resolution techniques that are specifically selected for particular classes of issues based on their suitability for resolving the critical questions of competence and performance presented. I call this a dépeçage approach to medical malpractice "reform" Dépeçage is a term familiar to scholars and students of conflict of laws. In dépeçage refers to interstate or international cases in which choice-of-law questions have arisen with respect to more than one issue. Rather than simply apply one state's or nation's law as a one-size-fits-all answer, dépeçage indicates more subtlety and concern for completing state interests by separately analyzing, under the relevant choice-of-law rules, the appropriate choice of law on an issue-by-issue approach.
Transporting dépeçage into the substantive realm of adjudicating random malpractice claims will bring the kind of order and coherence to the analysis that lays the foundation for further tort-reform efforts by state legislatures. A finer-tuned approach will scrutinize the kind of error alleged to have occurred; the base of knowledge required to adjudicate whether the error is within or without the professional standard of care; and, considering the kind of error and the knowledge base required, the most appropriate resolution technique to effect that adjudication. I call this the dépeçage model for classifying errors and associating specific classes of error with optional resolution techniques. Association with optional resolution techniques requires evaluation of the two completing principles underlying professional malpractice claims—the enterprise regulation principle and the corrective justice principle. The operating assumption of the dépeçage model elegant in its simplicity.
The dépeçage model does not masquerade as "the" solution to the medical-malpractice crisis. Rather, it is a work in progress – a proposal for limning the boundaries of the debate in a new framework, one that is less tied to the circular cycle of tort "reform" and tort "expansion" and more rooted in the principles animating the regulation of learned professions and the development of tort law. It would be well-suited for study by a permanent body – such as the National Conference of Commissioners on Uniform State Laws (NCCUSL), which "provides states with non-partisan, well-conceived and well-drafted legislation that brings clarity and stability to critical areas of the law," or the American Law Institute (ALI), "which engages in intensive examination and analysis of legal areas thought to need reform . . . culminat[ing] in a work product containing extensive recommendations or proposals for change in the law," such as "the development of model statutory formulations."
Thus, the dépeçage model is intended to open a new paradigm of discussion within the tort-reform conversation and debate. To use Churchill's iconic terminology, "[n]ow this is not the end. It is not even the beginning of the end. But it is, perhaps, the end of the beginning."
Publication Date
February 10, 2009
Citation Information
Jeffrey A. Van Detta. "Dialogue With A Neurosurgeon: Toward A Dépeçage Approach To Achieve Tort Reform And Preserve Corrective Justice In Medical Malpractice Cases"
ExpressO
(2009)
Available at: http://works.bepress.com/jeffrey_van_detta/5/