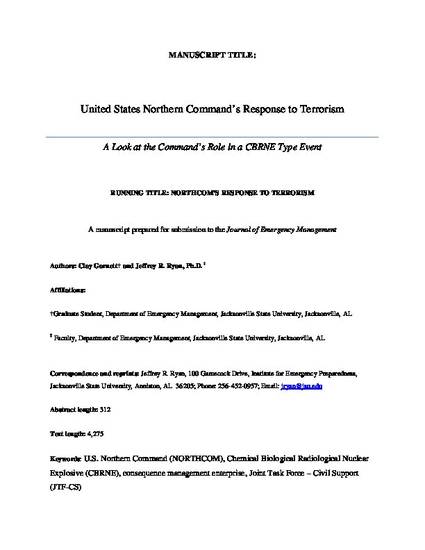 Unpublished Paper
United States Northern Command's Response to Terrorism: A Look at the Command's Role in a CBRNE Type Event
Journal of Homeland Security and Emergency Management (2012)
Abstract
This document examines the role that the US Northern Command would play in the event of a Chemical, Biological, Radiological, Nuclear, Explosive (CBRNE) type attack on U.S. soil. A brief overview of the command and its particular role follows.
Keywords
U.S. Northern Command (NORTHCOM),
Chemical Biological Radiological Nuclear Explosive (CBRNE),
consequence management enterprise,
Joint Task Force – Civil Support (JTF-CS)
Citation Information
Jeffrey R Ryan and Clay Garnett. "United States Northern Command's Response to Terrorism: A Look at the Command's Role in a CBRNE Type Event"
Journal of Homeland Security and Emergency Management
(2012)
Available at: http://works.bepress.com/jeffrey_ryan1/1/