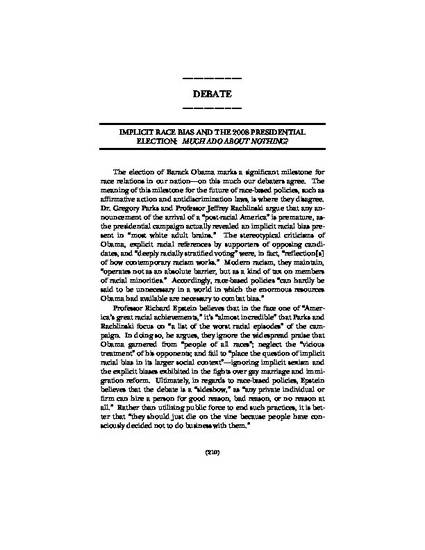 Article
Debate, Implicit Race Bias and the 2008 Presidential Election: Much Ado About Nothing?
Cornell Law Faculty Publications
Publication Date
1-1-2008
Keywords
Implicit race bias,
Implicit racial bias,
Elections,
Post-racial America,
Race-based policies,
Racism,
Discrimination
Abstract
The election of Barack Obama marks a significant milestone for race relations in our nation—on this much our debaters agree. The meaning of this milestone for the future of race-based policies, such as affirmative action and antidiscrimination laws, is where they disagree. Dr. Gregory Parks and Professor Jeffrey Rachlinski argue that any announcement of the arrival of a "post-racial America" is premature, as the presidential campaign actually revealed an implicit racial bias present in "most white adult brains." The stereotypical criticisms of Obama, explicit racial references by supporters of opposing candidates, and "deeply racially stratified voting" were, in fact, "reflection[s] of how contemporary racism works." Modern racism, they maintain, "operates not as an absolute barrier, but as a kind of tax on members of racial minorities." Accordingly, race-based policies "can hardly be said to be unnecessary in a world in which the enormous resources Obama had available are necessary to combat bias." Professor Richard Epstein believes that in the face one of "America's great racial achievements," it's "almost incredible" that Parks and Rachlinski focus on "a list of the worst racial episodes" of the campaign. In doing so, he argues, they ignore the widespread praise that Obama garnered from "people of all races"; neglect the "vicious treatment" of his opponents; and fail to "place the question of implicit racial bias in its larger social context"—ignoring implicit sexism and the explicit biases exhibited in the fights over gay marriage and immigration reform. Ultimately, in regards to race-based policies, Epstein believes that the debate is a "sideshow," as "any private individual or firm can hire a person for good reason, bad reason, or no reason at all." Rather than utilizing public force to end such practices, it is better that "they should just die on the vine because people have consciously decided not to do business with them."
Publication Citation
Published in: University of Pennsylvania Law Review PENNumbra, vol. 157 (2008).
Citation Information
Gregory S. Parks, Jeffrey J. Rachlinski and Richard A. Epstein. "Debate, Implicit Race Bias and the 2008 Presidential Election: Much Ado About Nothing?" (2008)
Available at: http://works.bepress.com/jeffrey_rachlinski/58/