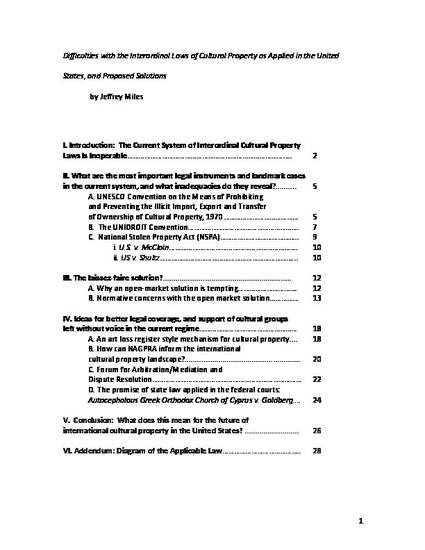 Article
Difficulties with the Interordinal Laws of Cultural Property as Applied in the United States, and Proposed Solutions
Under Consideration (2017)
Abstract
This paper seeks to sketch the contours of the interordinal web of the current laws, and delineate problem areas where the law fails to reach as well as the areas where law exists, yet remains misapplied. In doing so, I am hoping to continue the dialectic begun by Alexander Bauer in his 2008 piece, New Ways of Thinking About Cultural Property: A Critical Appraisal of the Antiquities Trade Debates as well as borrow some inspiration from the interordinal analysis applied by Gordillo in his groundbreaking recent work, Interlocking Constitutions. This is a top-down perspective, with less attention to each individual law than to the interordinal architecture created by the current regime as a whole. By looking at the overall structure of the laws as applied in the United States, it is possible to propose holistic solutions to patch up where the obvious gaps exist. My research indicates that this perspective is lacking in the current scholarship, and my hope is that by looking at the interordinal nature of the law today, the overall structure may be improved, rather than proposing solutions to one singular law or enforcement mechanism with disregard to the totality of the web. Because of the complexity of the trade itself, featuring overlapping laws of foreign nation states and the interwoven rules of United States import and criminal law, it is no surprise that the laws embody the "instability of interordinal relationships."
Keywords
art,
cultural property,
stolen cultural property,
international law,
visualizing the law
Publication Date
August 1, 2017
Citation Information
Jeffrey John Miles. "Difficulties with the Interordinal Laws of Cultural Property as Applied in the United States, and Proposed Solutions"
Under Consideration
(2017)
Available at: http://works.bepress.com/jeffrey_miles/5/