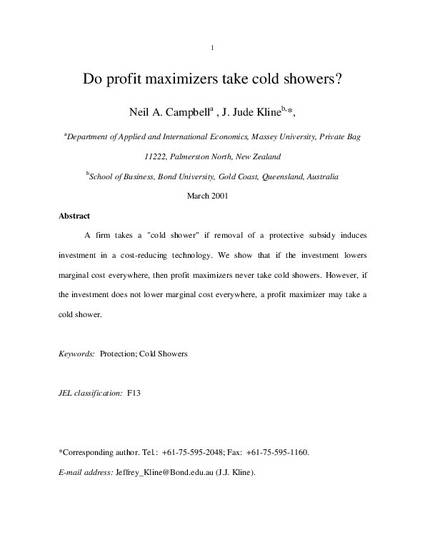 Unpublished Paper
Do profit maximizers take cold showers?
Bond Business School Publications
Date of this Version
3-1-2001
Document Type
Working Paper
Abstract
A firm takes a "cold shower" if removal of a protective subsidy induces investment in a cost-reducing technology. We show that if the investment lowers marginal cost everywhere, then profit maximizers never take cold showers. However, if the investment does not lower marginal cost everywhere, a profit maximizer may take a cold shower.
Citation Information
Neil Campbell and Jeffrey J. Kline. "Do profit maximizers take cold showers?" (2001)
Available at: http://works.bepress.com/jeffrey_kline/3/