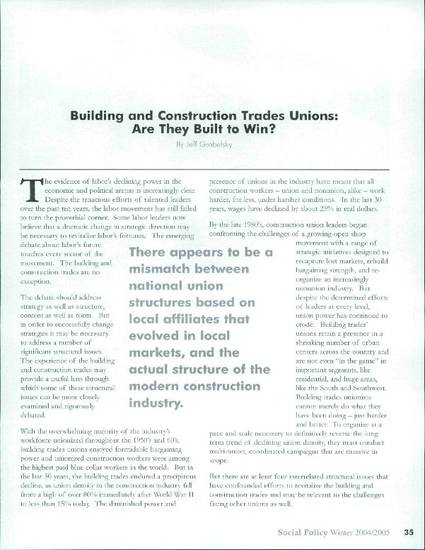 Article
Building and Construction Trades Unions: Are They Built to Win?
Articles and Chapters
Publication Date
12-1-2004
Abstract
[Excerpt] The evidence of labor's declining power in the economic and political arenas is increasingly clear. Despite the tenacious efforts of talented leaders over the past ten years, the labor movement has still failed to turn the proverbial cornet. Some labor leaders now believe that a dramatic change in strategic direction may be necessary to revitalize labor's fortunes. The emerging debate about labor's future touches every sector of the movement. The building and construction trades are no exception.
Citation Information
Jeff Grabelsky. "Building and Construction Trades Unions: Are They Built to Win?" (2004)
Available at: http://works.bepress.com/jeffrey_grabelsky/1/