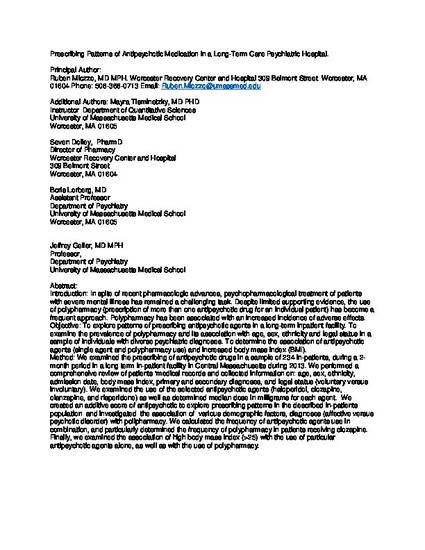 Presentation
Prescribing Patterns of Antipsychotic Medication in a Long-Term Care Psychiatric Hospital
UMass Center for Clinical and Translational Science Research Retreat
Start Date
20-5-2014 12:30 PM
Description
Introduction: In spite of recent pharmacologic advances, psychopharmacological treatment of patients with severe mental illness has remained a challenging task. Despite limited supporting evidence, the use of polypharmacy (prescription of more than one antipsychotic drug for an individual patient) has become a frequent approach. Polypharmacy has been associated with an increased incidence of adverse effects.
Objective: To explore patterns of prescribing antipsychotic agents in a long-term inpatient facility. To examine the prevalence of polypharmacy and its association with age, sex, ethnicity and legal status in a sample of individuals with diverse psychiatric diagnoses. To determine the association of antipsychotic agents (single agent and polypharmacy use) and increased body mass index (BMI).
Method: We examined the prescribing of antipsychotic drugs in a sample of 234 in-patients, during a 2-month period in a long term in-patient facility in Central Massachusetts during 2013. We performed a comprehensive review of patients 'medical records and collected information on: age, sex, ethnicity, admission date, body mass index, primary and secondary diagnoses, and legal status (voluntary versus involuntary). We examined the use of the selected antipsychotic agents (haloperidol, clozapine, olanzapine, and risperidone) as well as determined median dose in milligrams for each agent. We created an additive score of antipsychotic to explore prescribing patterns in the described in-patients population and investigated the association of various demographic factors, diagnoses (affective versus psychotic disorder) with polipharmacy. We calculated the frequency of antipsychotic agents use in combination, and particularly determined the frequency of polypharmacy in patients receiving clozapine. Finally, we examined the association of high body mass index (>25) with the use of particular antipsychotic agents alone, as well as with the use of polypharmacy.
Creative Commons License
Creative Commons Attribution-Noncommercial-Share Alike 3.0
Citation Information
Ruben Miozzo, Mayra Tisminetzky, Seven Dolley, Boris Lorberg, et al.. "Prescribing Patterns of Antipsychotic Medication in a Long-Term Care Psychiatric Hospital" (2014)
Available at: http://works.bepress.com/jeffrey_geller/118/