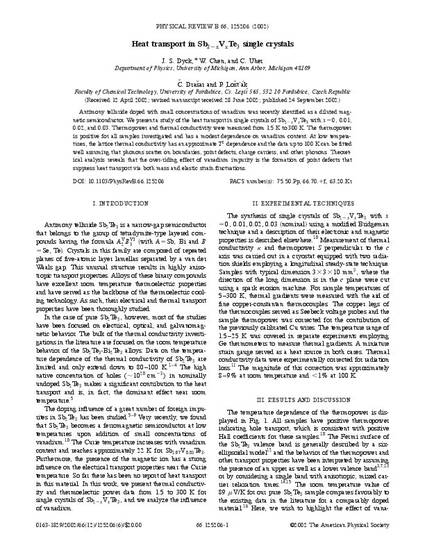 Article
Heat transport in Sb2ÀxVxTe3 single crystals
Physical Review B (2002)
Abstract
Antimony telluride doped with small concentrations of vanadium was recently identified as a diluted magnetic semiconductor. We present a study of the heat transport in single crystals of [formula] with [formula] 0.01, 0.02, and 0.03. Thermopower and thermal conductivity were measured from 1.5 K to 300 K. The thermopower is positive for all samples investigated and has a modest dependence on vanadium content. At low temperatures, the lattice thermal conductivity has an approximate [formula] dependence and the data up to 100 K can be fitted well assuming that phonons scatter on boundaries, point defects, charge carriers, and other phonons. Theoretical analysis reveals that the over-riding effect of vanadium impurity is the formation of point defects that suppress heat transport via both mass and elastic strain fluctuations.
Publication Date
September 15, 2002
Citation Information
Jeffrey Dyck, W. Chen, C. Uher, Č. Drašar, et al.. "Heat transport in Sb2ÀxVxTe3 single crystals"
Physical Review B
Vol. 66 Iss. 21 (2002)
Available at: http://works.bepress.com/jeffrey_dyck/43/