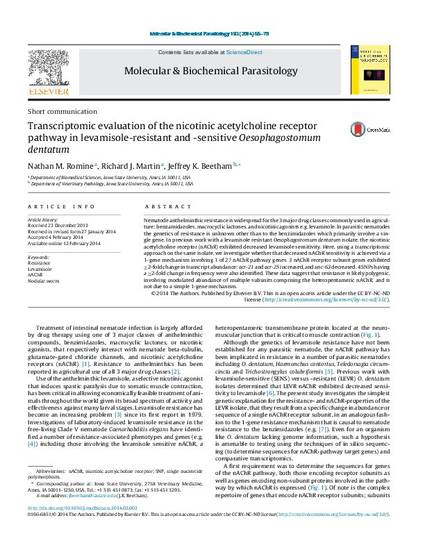 Article
Transcriptomic evaluation of the nicotinic acetylcholine receptor pathway in levamisole-resistant and -sensitive Oesophagostomum dentatum
Molecular and Biochemical Parasitology
Publication Date
1-1-2014
DOI
10.1016/j.molbiopara.2014.02.002
Abstract
Nematode anthelminthic resistance is widespread for the 3 major drug classes commonly used in agriculture: benzamidazoles, macrocyclic lactones, and nicotinic agonists e.g. levamisole. In parasitic nematodes the genetics of resistance is unknown other than to the benzimidazoles which primarily involve a single gene. In previous work with a levamisole resistant Oesophagostomum dentatum isolate, the nicotinic acetylcholine receptor (nAChR) exhibited decreased levamisole sensitivity. Here, using a transcriptomic approach on the same isolate, we investigate whether that decreased nAChR sensitivity is achieved via a 1-gene mechanism involving 1 of 27 nAChR pathway genes. 3 nAChR receptor subunit genes exhibited ≥2-fold change in transcript abundance: acr-21 and acr-25 increased, and unc-63 decreased. 4 SNPs having a ≥2-fold change in frequency were also identified. These data suggest that resistance is likely polygenic, involving modulated abundance of multiple subunits comprising the heteropentameric nAChR, and is not due to a simple 1-gene mechanism.
Rights
This is an open access article under the CC BY-NC-ND license (http://creativecommons.org/licenses/by-nc-nd/3.0/)
Copyright Owner
The Authors
File Format
application/pdf
Citation Information
Nathan M. Romine, Richard J. Martin and Jeffrey K. Beetham. "Transcriptomic evaluation of the nicotinic acetylcholine receptor pathway in levamisole-resistant and -sensitive Oesophagostomum dentatum"
Molecular and Biochemical Parasitology
Vol. 193 Iss. 1 (2014) p. 66 - 70
Available at: http://works.bepress.com/jeffrey_beetham/1/