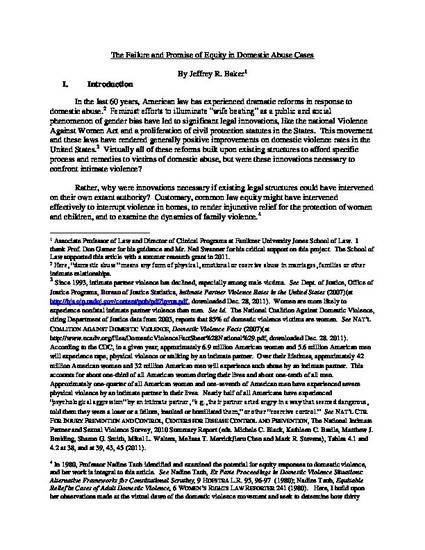 Unpublished Paper
The Failure and Promise of Equity in Domestic Abuse Cases
ExpressO (2012)
Abstract
In a generation, American law has experienced dramatic reforms in response to domestic abuse, including innovative criminal law enforcement schemes, liberalized divorce standards and civil protection orders. Feminist activism prompted and drove these reforms and related cultural understanding of domestic abuse, and they have yielded more effective legal options for victims of domestic violence. Virtually all of these reforms built upon existing structures to afford specific process and remedies to victims of domestic abuse, but why were innovations necessary if existing legal structures could have intervened on their own extant authority? Customary, common law equity might have intervened effectively to interrupt violence in homes, to render injunctive relief for the protection of women and children, and to examine the dynamics of family violence. Despite this promise, equity failed for centuries as a means to protect victims of abuse in families. Now, however, society and culture are far better illuminated on matters of gender justice and the dynamics of intimate violence. Feminist reforms have taken root and flourished, and the law now empowers courts to intervene regularly in family matters. Equity can expand the tools available to courts to render justice for victims, especially victims who are not subject to physical violence. Equity can be an interstitial supplement when general law cannot accommodate unique, specific relationships that are abusive and violent. This Article considers why traditional, common law equity failed historically to provide relief for victims of domestic abuse. It concludes with a call to refine, alter and improve equity in light of an illuminated, modern understanding of domestic abuse and gender justice, while claiming the old moral demands of good conscience, suffering no wrong against a victim of domestic abuse without rendering adequate, preventative and moral relief.
Publication Date
February 25, 2012
Citation Information
Jeffrey R Baker. "The Failure and Promise of Equity in Domestic Abuse Cases"
ExpressO
(2012)
Available at: http://works.bepress.com/jeffrey_baker/6/