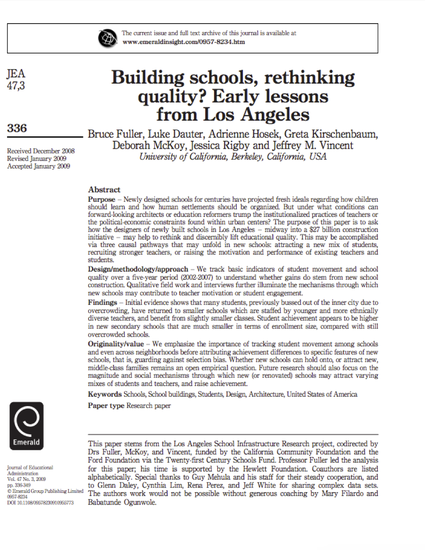 Article
Building schools, rethinking quality? Early lessons from Los Angeles
Journal of Educational Administration (2009)
Abstract
Purpose – Newly designed schools for centuries have projected fresh ideals regarding how children should learn and how human settlements should be organized. But under what conditions can forward-looking architects or education reformers trump the institutionalized practices of teachers or the political-economic constraints found within urban centers? The purpose of this paper is to ask how the designers of newly built schools in Los Angeles – midway into a $27 billion construction initiative – may help to rethink and discernibly lift educational quality. This may be accomplished via three causal pathways that may unfold in new schools: attracting a new mix of students, recruiting stronger teachers, or raising the motivation and performance of existing teachers and students.
Design/methodology/approach – We track basic indicators of student movement and school quality over a five-year period (2002-2007) to understand whether gains do stem from new school construction. Qualitative field work and interviews further illuminate the mechanisms through which new schools may contribute to teacher motivation or student engagement.
Findings – Initial evidence shows that many students, previously bussed out of the inner city due to overcrowding, have returned to smaller schools which are staffed by younger and more ethnically diverse teachers, and benefit from slightly smaller classes. Student achievement appears to be higher in new secondary schools that are much smaller in terms of enrollment size, compared with still overcrowded schools.
Originality/value – We emphasize the importance of tracking student movement among schools and even across neighborhoods before attributing achievement differences to specific features of new schools, that is, guarding against selection bias. Whether new schools can hold onto, or attract new, middle-class families remains an open empirical question. Future research should also focus on the magnitude and social mechanisms through which new (or renovated) schools may attract varying mixes of students and teachers, and raise achievement.
Keywords
Schools,
School buildings,
Students,
Design,
Architecture,
United States of America
Publication Date
January, 2009
DOI
10.1108/09578230910955773
Citation Information
Jeffrey Vincent and Bruce Fuller. "Building schools, rethinking quality? Early lessons from Los Angeles"
Journal of Educational Administration
Vol. 47 Iss. 3 (2009) p. 336 - 349
Available at: http://works.bepress.com/jeffrey-vincent/5/