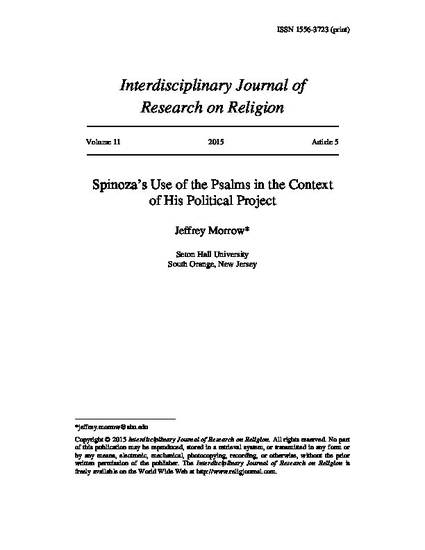 Article
"Spinoza's Use of the Psalms in the Context of His Political Project."
Interdisciplinary Journal of Research on Religion (2015)
Abstract
Spinoza's Tractatus theologico-politicus pertains to matters of biblical interpretation as much as it does to political philosophy. In addition to laying the groundwork for a method of biblical interpretation in his seventh chapter, Spinoza engages in biblical exegesis throughout his work. Among the many portions of the Bible that he uses and discusses are the Psalms. An examination of Spinoza's highly selective use of Psalms shows this use to be apologetical. Spinoza used the Psalms as part of his defense of his political philosophy, wherein he privatized religion, handing over public religious matters (such as ritual) into the hands of the secular state.
Keywords
Spinoza,
History of Biblical Interpretation,
Seventeenth Century,
Psalms
Citation Information
Jeffrey Morrow. ""Spinoza's Use of the Psalms in the Context of His Political Project.""
Interdisciplinary Journal of Research on Religion
Vol. 11 (2015) p. 1 - 18
Available at: http://works.bepress.com/jeffrey-morrow/29/