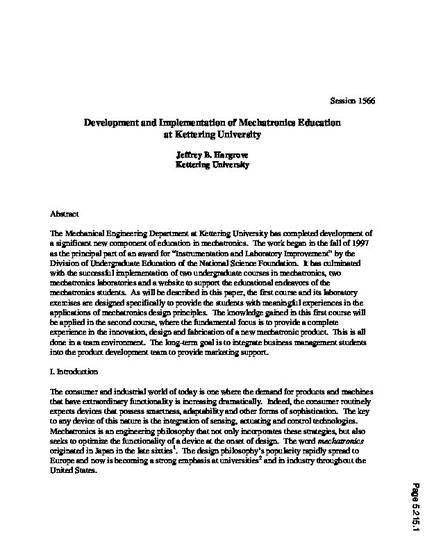 Presentation
Development and Implementation of Mechatronics Education at Kettering University
ASEE Conference Proceedings
Document Type
Conference Proceeding
Publication Date
6-1-2000
Conference Name
2000 Annual Conference, St. Louis, Missouri
Abstract
The Mechanical Engineering Department at Kettering University has completed development of a significant new component of education in mechatronics. The work began in the fall of 1997 as the principal part of an award for "Instrumentation and Laboratory Improvement" by the Division of Undergraduate Education of the National Science Foundation. It has culminated with the successful implementation of two undergraduate courses in mechatronics, two mechatronics laboratories and a website to support the educational endeavors of the mechatronics students. As will be described in this paper, the first course and its laboratory exercises are designed specifically to provide the students with meaningful experiences in the applications of mechatronics design principles. The knowledge gained in this first course will be applied in the second course, where the fundamental focus is to provide a complete experience in the innovation, design and fabrication of a new mechatronic product. This is all done in a team environment. The long-term goal is to integrate business management students into the product development team to provide marketing support.
Rights Statement
ASEE holds the copyright on this document. It may be read by the public free of charge. Authors may archive their work on personal websites or in institutional repositories with the following citation: © 2000 American Society for Engineering Education. Other scholars may excerpt or quote from these materials with the same citation. When excerpting or quoting from Conference Proceedings, authors should, in addition to noting the ASEE copyright, list all the original authors and their institutions and name the host city of the conference. - Last updated April 1, 2015
Citation Information
Jeffrey Hargrove. "Development and Implementation of Mechatronics Education at Kettering University"
ASEE Conference Proceedings
(2000)
Available at: http://works.bepress.com/jeffrey-hargrove/9/