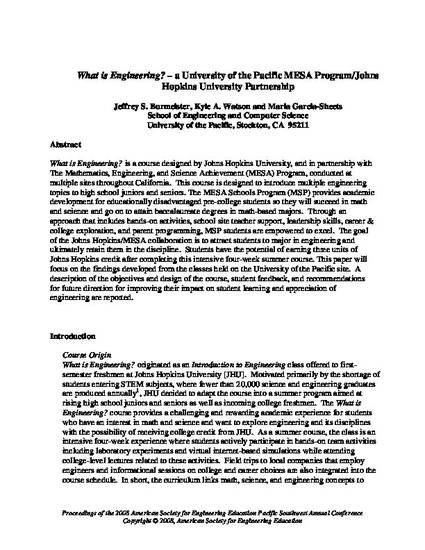 Presentation
What is Engineering? - a University of the Pacific MESA Program/Johns Hopkins University Partnership
Proceedings of American Society for Engineering Education, Pacific Southwest Section Conference
Document Type
Conference Presentation
Organization
American Society for Engineering Education (ASEE)
Location
Northern Arizona University, Flagstaff, AZ
Conference Dates
March 27-28, 2008
Date of Presentation
3-27-2008
Abstract
What is Engineering? is a course designed by Johns Hopkins University, and in partnership with The Mathematics, Engineering, and Science Achievement (MESA) Program, conducted at multiple sites throughout California. This course is designed to introduce multiple engineering topics to high school juniors and seniors. The MESA Schools Program (MSP) provides academic development for educationally disadvantaged pre-college students so they will succeed in math and science and go on to attain baccalaureate degrees in math-based majors. Through an approach that includes hands-on activities, school site teacher support, leadership skills, career & college exploration, and parent programming, MSP students are empowered to excel. The goal of the Johns Hopkins/MESA collaboration is to attract students to major in engineering and ultimately retain them in the discipline. Students have the potential of earning three units of Johns Hopkins credit after completing this intensive four-week summer course. This paper will focus on the findings developed from the classes held on the University of the Pacific site. A description of the objectives and design of the course, student feedback, and recommendations for future direction for improving their impact on student learning and appreciation of engineering are reported.
Citation Information
Jeffrey S. Burmeister, Kyle A. Watson and Maria Garcia-Sheets. "What is Engineering? - a University of the Pacific MESA Program/Johns Hopkins University Partnership"
Proceedings of American Society for Engineering Education, Pacific Southwest Section Conference
(2008)
Available at: http://works.bepress.com/jeffrey-burmeister/13/