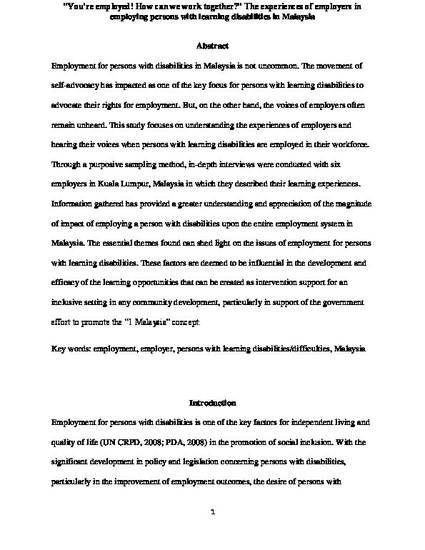 Article
"You're employed! How can we work together?" The experiences of employers in employing persons with learning disabilities in Malaysia
Journal of Special Needs Education (2013)
Abstract
Employment for persons with disabilities in Malaysia is not uncommon. The movement of self-advocacy has impacted as one of the key focus for persons with learning disabilities to advocate their rights for employment. But, on the other hand, the voices of employers often remain unheard. This study focuses on understanding the experiences of employers and hearing their voices when persons with learning disabilities are employed in their workforce. Through a purposive sampling method, in-depth interviews were conducted with six employers in Kuala Lumpur, Malaysia in which they described their learning experiences. Information gathered has provided a greater understanding and appreciation of the magnitude of impact of employing a person with disabilities upon the entire employment system in Malaysia. The essential themes found can shed light on the issues of employment for persons with learning disabilities. These factors are deemed to be influential in the development and efficacy of the learning opportunities that can be created as intervention support for an inclusive setting in any community development, particularly in support of the government effort to promote the "1 Malaysia" concept.
Keywords
employment,
employer,
persons with learning disabilities/difficulties,
Malaysia
Citation Information
Jee Ching Pang. ""You're employed! How can we work together?" The experiences of employers in employing persons with learning disabilities in Malaysia"
Journal of Special Needs Education
Vol. 3 (2013)
Available at: http://works.bepress.com/jeeching_pang/2/