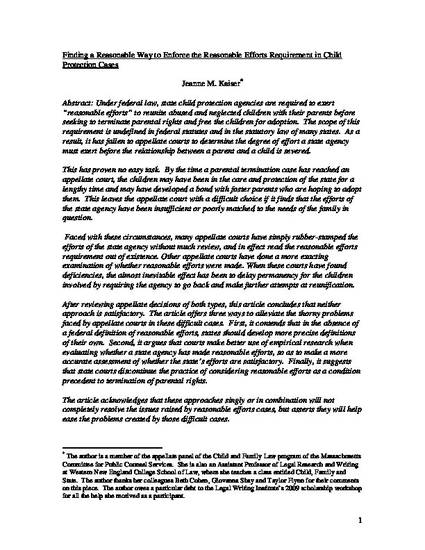 Unpublished Paper
Finding a Reasonable Way to Enforce the Reasonable Efforts Requirement in Child Protection Cases
ExpressO (2009)
Abstract
Abstract: Under federal law, state child protection agencies are required to exert "reasonable efforts" to reunite abused and neglected children with their parents before seeking to terminate parental rights and free the children for adoption. The scope of this requirement is undefined in federal statutes and in the statutory law of many states. As a result, it has fallen to appellate courts to determine the degree of effort a state agency must exert before the relationship between a parent and a child is severed. This has proven no easy task. By the time a parental termination case has reached an appellate court, the children may have been in the care and protection of the state for a lengthy time and may have developed a bond with foster parents who are hoping to adopt them. This leaves the appellate court with a difficult choice if it finds that the efforts of the state agency have been insufficient or poorly matched to the needs of the family in question. Faced with these circumstances, many appellate courts have simply rubber-stamped the efforts of the state agency without much review, and in effect read the reasonable efforts requirement out of existence. Other appellate courts have done a more exacting examination of whether reasonable efforts were made. When these courts have found deficiencies, the almost inevitable effect has been to delay permanency for the children involved by requiring the agency to go back and make further attempts at reunification. After reviewing appellate decisions of both types, this article concludes that neither approach is satisfactory. The article offers three ways to alleviate the thorny problems faced by appellate courts in these difficult cases. First, it contends that in the absence of a federal definition of reasonable efforts, states should develop more precise definitions of their own. Second, it argues that courts make better use of empirical research when evaluating whether a state agency has made reasonable efforts, so as to make a more accurate assessment of whether the state's efforts are satisfactory. Finally, it suggests that state courts discontinue the practice of considering reasonable efforts as a condition precedent to termination of parental rights. The article acknowledges that these approaches singly or in combination will not completely resolve the issues raised by reasonable efforts cases, but asserts they will help ease the problems created by those difficult cases.
Publication Date
August 7, 2009
Citation Information
Jeanne M. Kaiser. "Finding a Reasonable Way to Enforce the Reasonable Efforts Requirement in Child Protection Cases"
ExpressO
(2009)
Available at: http://works.bepress.com/jeanne_kaiser/1/