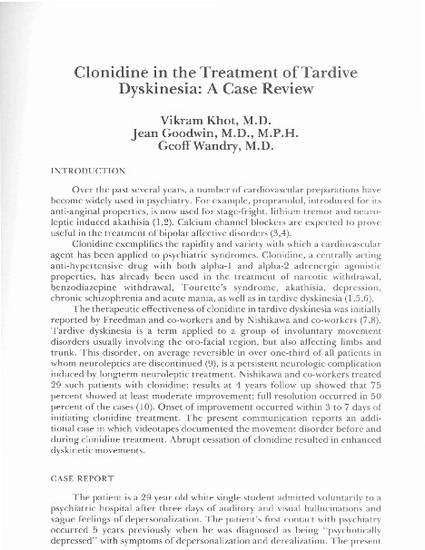 Article
Clonidine in the Treatment of Tardive Dyskinesia: A Case Review
Jefferson Journal of Psychiatry
Abstract
Over the past several years, a number of cardiovascular preparations have become widely used in psychiatry. For example, propranolol, introduced for its anti-anginal properties, is now used for stage-fright, lithium tremor and neuroleptic induced akathisia (1,2). Calcium channel blockers are expected to prove useful in the treatment of bipolar affective disorders (3,4). Clonidine exemplifies the rapidity and variety with which a cardiovascular agent has been applied to psychiatric syndromes. Clonidine, a centrally acting anti-hypertensive drug with both alpha-l and alpha-2 adrenergic agonistic properties, has already been used in the treatment of narcotic with drawal, benzodiazepine withdrawal, Tourette's syndrome, akathisia, depression, chronic schizophrenia and acute mania, as well as in tardive dyskinesia ( 1,5,6).
Citation Information
Vikram Khot, MD, Jean Goodwin, MD, MPH and Geoff Wandry, MD. "Clonidine in the Treatment of Tardive Dyskinesia: A Case Review"
Available at: http://works.bepress.com/jeangoodwin/29/