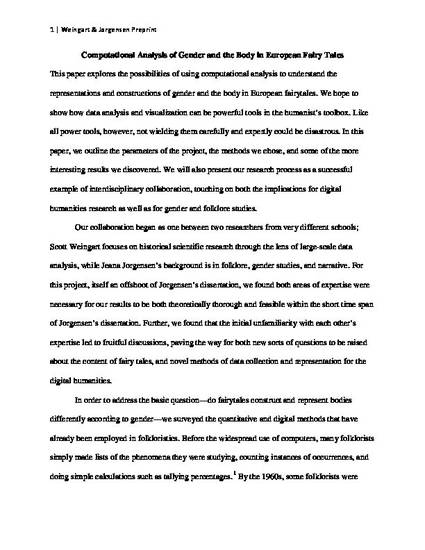 Article
Computational Analysis of the Body in European Fairy Tales
Literary and Linguistic Computing
Publication Date
1-1-2013
DOI
http://dx.doi.org/10.1093/llc/fqs015
Abstract
This article explores how digital humanities research methods can be used to analyze the representations of gendered bodies in European fairy tales, a flexible and pervasive genre that has influenced Western children's education and acquisition of gender identity for centuries. By blending the theoretical and methodological concerns of folkloristics, gender studies, and large-scale scientific research, this article demonstrates the utility of cross-disciplinary collaboration in asking traditional questions of traditional materials with new methods. To facilitate this research, a hand-coded database listing every reference to a body or body part in the 233 fairy tales was created. Analysis revealed strong indications that the gender and age of fairy-tale protagonists correlate in ways that indicate societal value being placed on certain perspectives, with youthful and masculine perspectives being validated as universal, whereas feminine and aged bodies are often marked as 'other'. Feminist scholars have articulated some of these ideas in the past, and this approach allows for a more empirical exploration of such claims.
Rights
This is a pre-copyedited, author-produced PDF of an article accepted for publication inLiterary and Linguistic Computingfollowing peer review. The version of record, Weingart, Scott, and Jeana Jorgensen. "Computational Analysis of the Body in European Fairy Tales." Literary and Linguistic Computing: Journal of the Association for Literary and Linguistic Computing and the Association for Computers and the Humanities. 28.3 (2013): 404-416. is available online at: 10.1093/llc/fqs015.
Citation Information
Scott Weingart and Jeana Jorgensen. "Computational Analysis of the Body in European Fairy Tales"
Literary and Linguistic Computing
Vol. 28 Iss. 3 (2013) p. 404 - 416
Available at: http://works.bepress.com/jeana_jorgensen/15/