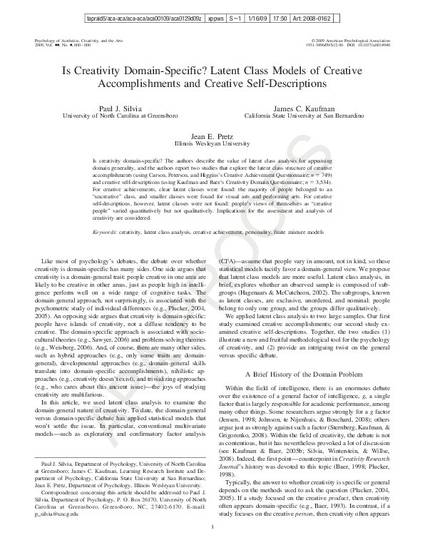 Article
Is Creativity Domain-Specific? Latent Class Models of Creative Accomplishments and Creative Self-Descriptions
Psychology of Aesthetics, Creativity, and the Arts (2009)
Abstract
Note: This article may not exactly replicate the final version published in the APA journal. It is not the copy of record. http://www.apa.org/journals/aca/ Is creativity domain-specific? The authors describe the value of latent class analysis for appraising domain generality, and the authors report two studies that explore the latent class structure of creative accomplishments (using Carson, Peterson, and Higgins's Creative Achievement Questionnaire; n 749) and creative self-descriptions (using Kaufman and Baer's Creativity Domain Questionnaire; n 3,534). For creative achievements, clear latent classes were found: the majority of people belonged to an "uncreative" class, and smaller classes were found for visual arts and performing arts. For creative self-descriptions, however, latent classes were not found: people's views of themselves as "creative people" varied quantitatively but not qualitatively. Implications for the assessment and analysis of creativity are considered.
Keywords
creativity,
latent class analysis,
creative achievement,
personality,
finite mixture models
Citation Information
Paul J. Silvia, James C. Kaufman and Jean E. Pretz. "Is Creativity Domain-Specific? Latent Class Models of Creative Accomplishments and Creative Self-Descriptions"
Psychology of Aesthetics, Creativity, and the Arts
(2009)
Available at: http://works.bepress.com/jean_pretz/5/