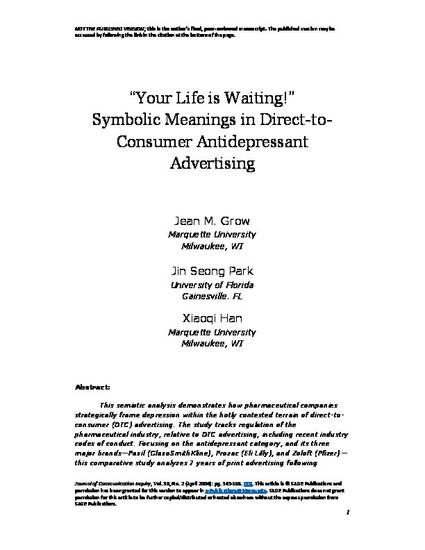 Article
"Your Life is Waiting!": Symbolic Meanings in Direct-to-Consumer Antidepressant Advertising
Journal of Communication Inquiry
Publication Date
4-1-2006
Publisher
SAGE Publications
Original Item ID
doi: 10.1177/0196859905285315
Abstract
This semiotic analysis demonstrates how pharmaceutical companies strategically frame depression within the hotly contested terrain of direct-to-consumer (DTC) advertising. The study tracks regulation of the pharmaceutical industry, relative to DTC advertising, including recent industry codes of conduct. Focusing on the antidepressant category, and its three major brands—Paxil (GlaxoSmithKline), Prozac (Eli Lilly), and Zoloft (Pfizer)—this comparative study analyzes 7 years of print advertising following deregulation in 1997. The authors glean themes from within the advertising texts, across the drug category and within individual-brand campaigns. The findings indicate that DTC advertising of antidepressants frames depression within the biochemical model of causation, privileges benefits over risks, fails to adequately educate consumers, and frames depression as a female condition. The authors close with commentary on the potential implications, with particular focus on the new codes of conduct, and offer suggestions for future research.
Citation Information
Jean M. Grow, Jin Seong Park and Xiaoqi Han. ""Your Life is Waiting!": Symbolic Meanings in Direct-to-Consumer Antidepressant Advertising"
Journal of Communication Inquiry
(2006) ISSN: 0196-8599
Available at: http://works.bepress.com/jean_grow/7/