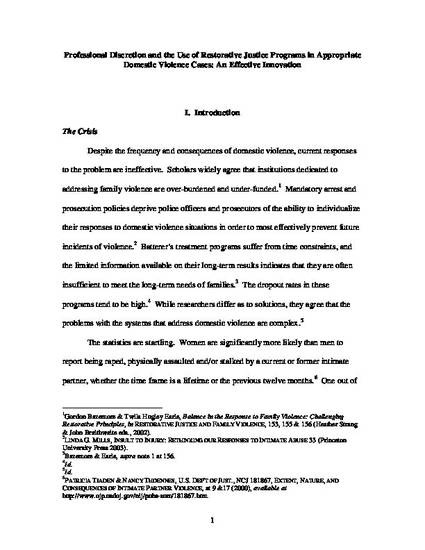 Unpublished Paper
Professional Discretion and the Use of Restorative Justice Programs in Appropriate Domestic Violence Cases: An Effective Innovation
ExpressO (2008)
Abstract
Despite the frequency and consequences of domestic violence, current responses to the problem are ineffective. Scholars widely agree that institutions dedicated to addressing family violence are over-burdened and under-funded. Mandatory arrest and prosecution policies deprive police officers and prosecutors of the ability to individualize their responses to domestic violence situations in order to most effectively prevent future incidents of violence. Batterer's treatment programs suffer from time constraints, and the limited information available on their long-term results indicates that they are often insufficient to meet the long-term needs of families. The dropout rates in these programs tend to be high. While researchers differ as to solutions, they agree that the problems with the systems that address domestic violence are complex. The "one size fits all" response to domestic violence is not working, and consequently the United States needs policy change. First, police officers should be allowed to exercise some discretion at the scene of a domestic violence call. Second, prosecutors should be allowed to use non-coercive no-drop policies and to use their professional discretion in deciding which cases to prosecute and the manner and level they should be prosecuted. Third, restorative justice models should be implemented to deal with domestic violence when appropriate.
Publication Date
October 7, 2008
Citation Information
Jean J Ferguson. "Professional Discretion and the Use of Restorative Justice Programs in Appropriate Domestic Violence Cases: An Effective Innovation"
ExpressO
(2008)
Available at: http://works.bepress.com/jean_ferguson/1/