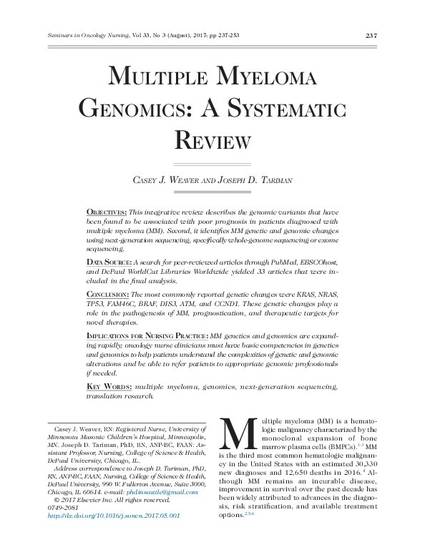 Article
Multiple myeloma genomics: Systematic review
Seminars in Oncology Nursing (2017)
Abstract
OBJECTIVES: This integrative review describes the genomic variants that have been found to be associated with poor prognosis in patients diagnosed with multiple myeloma (MM). Second, it identifies MM genetic and genomic changes usingnext-generationsequencing,specificallywhole-genomesequencingorexome sequencing. DATA SOURCE: A search for peer-reviewed articles through PubMed, EBSCOhost, and DePaul WorldCat Libraries Worldwide yielded 33 articles that were included in the final analysis. CONCLUSION: The most commonly reported genetic changes were KRAS, NRAS, TP53, FAM46C, BRAF, DIS3, ATM, and CCND1. These genetic changes play a role in the pathogenesis of MM, prognostication, and therapeutic targets for novel therapies. IMPLICATIONS FOR NURSING PRACTICE: MM genetics and genomics are expanding rapidly; oncology nurse clinicians must have basic competencies in genetics andgenomicstohelppatientsunderstandthecomplexitiesofgeneticandgenomic alterations and be able to refer patients to appropriate genomic professionals if needed. KEY WORDS: multiple myeloma, genomics, next-generation sequencing, translation research.
Keywords
Myeloma,
Genomics,
Systematic Reviews,
Cancer
Publication Date
Summer August 1, 2017
Citation Information
Joseph D Tariman. "Multiple myeloma genomics: Systematic review"
Seminars in Oncology Nursing
Vol. 33 Iss. 3 (2017) p. 237 - 253 ISSN: 0749-2081 (Print)
Available at: http://works.bepress.com/jdtariman/44/
Creative Commons license
This work is licensed under a Creative Commons CC_BY-NC-ND International License.