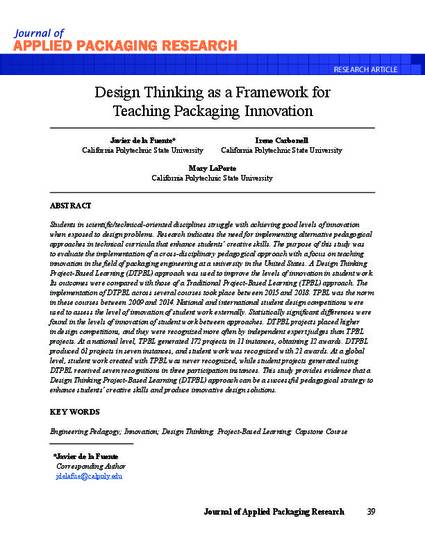 Article
Design Thinking as a Framework for Teaching Packaging Innovation
Journal of Applied Packaging Research (2019)
Abstract
Students in scientific/technical-oriented disciplines struggle with achieving good levels of innovation
when exposed to design problems. Research indicates the need for implementing alternative pedagogical
approaches in technical curricula that enhance students' creative skills. The purpose of this study was
to evaluate the implementation of a cross-disciplinary pedagogical approach with a focus on teaching
innovation in the field of packaging engineering at a university in the United States. A Design Thinking
Project-Based Learning (DTPBL) approach was used to improve the levels of innovation in student work.
Its outcomes were compared with those of a Traditional Project-Based Learning (TPBL) approach. The
implementation of DTPBL across several courses took place between 2015 and 2018. TPBL was the norm
in these courses between 2009 and 2014. National and international student design competitions were
used to assess the level of innovation of student work externally. Statistically significant differences were
found in the levels of innovation of student work between approaches. DTPBL projects placed higher
in design competitions, and they were recognized more often by independent expert judges than TPBL
projects. At a national level, TPBL generated 172 projects in 11 instances, obtaining 12 awards. DTPBL
produced 61 projects in seven instances, and student work was recognized with 21 awards. At a global
level, student work created with TPBL was never recognized, while student projects generated using
DTPBL received seven recognitions in three participation instances. This study provides evidence that a
Design Thinking Project-Based Learning (DTPBL) approach can be a successful pedagogical strategy to
enhance students' creative skills and produce innovative design solutions.
Keywords
Engineering Pedagogy,
Innovation,
Design Thinking,
Project-Based Learning,
Capstone Course
Publication Date
Winter February 11, 2019
Citation Information
Javier de la Fuente, Irene Carbonell and Mary LaPorte. "Design Thinking as a Framework for Teaching Packaging Innovation"
Journal of Applied Packaging Research
Vol. 11 Iss. 1 (2019) p. 39 - 69 ISSN: 1557-7224
Available at: http://works.bepress.com/jdelafue/6/