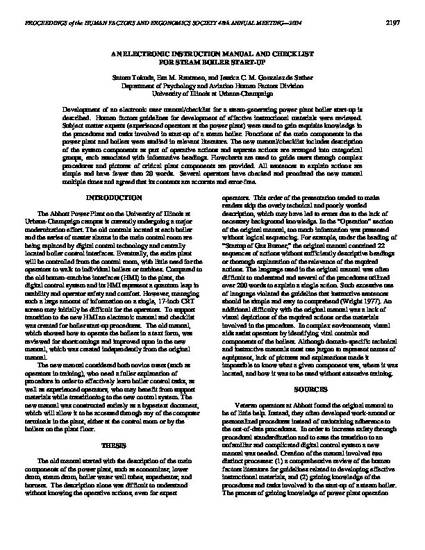 Article
An electronic instruction manual and checklist for steam boiler start-up
PROCEEDINGS of the HUMAN FACTORS AND ERGONOMICS SOCIETY 48th ANNUAL MEETING (2004)
Abstract
Development of an electronic user manual/checklist for a steam-generating power plant boiler start-up is described. Human factors guidelines for development of effective instructional materials were reviewed. Subject matter experts (experienced operators at the power plant) were used to gain requisite knowledge in the procedures and tasks involved in start-up of a steam boiler. Functions of the main components in the power plant and boilers were studied in relevant literature. The new manual/checklist includes description of the system components as part of operative actions and separate actions are arranged into categorical groups, each associated with informative headings. Flowcharts are used to guide users through complex procedures and pictures of critical plant components are provided. All sentences to explain actions are simple and have fewer than 20 words. Several operators have checked and proofread the new manual multiple times and agreed that its contents are accurate and error-free.
Publication Date
Spring March 26, 2004
Citation Information
Satoru Tokuda, Esa Rantenan and Jessica C. Hill. "An electronic instruction manual and checklist for steam boiler start-up"
PROCEEDINGS of the HUMAN FACTORS AND ERGONOMICS SOCIETY 48th ANNUAL MEETING
(2004) p. 2197 - 2201
Available at: http://works.bepress.com/jchill/1/