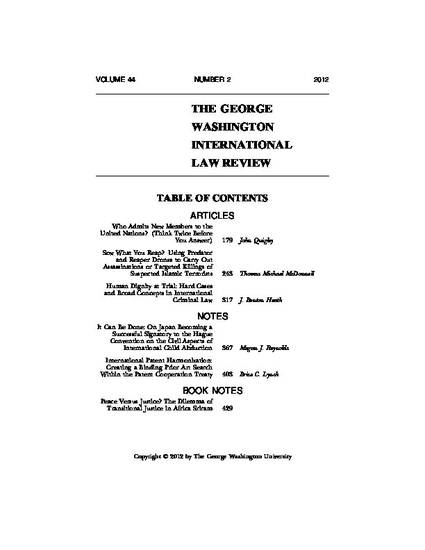 Article
Human Dignity at Trial: Hard Cases and Broad Concepts in International Criminal Law
George Washington International Law Review (2012)
Abstract
Broad and indeterminate invocations of human dignity play a sporadic but powerful role in the adjudication of international criminal law (ICL). Drawing on detailed case studies, I argue that the concept of dignity enables courts to fill gaps in the substantive criminal law, justify expansive interpretations, resolve conflicts between competing rights and values, and potentially overcome the requirements of strict legality. These features enable judges to reach important and sometimes morally compelling conclusions. But expansive uses of human dignity come into tension with rule-of-law principles, and they challenge the self-understanding of ICL as a regime of limited subject-matter jurisdiction. This paper addresses these conceptual difficulties. In addition, I lay the groundwork for a more robust and well-defined conception of human dignity by connecting recent case law to older notions of dignity as a kind of rank or status. As the International Criminal Court enters its second decade and the ad hoc tribunals wind down their work, we enter a new era in the history of ICL institutions. The prospect of permanent adjudication of ICL at the international level calls for sustained consideration of the theoretical difficulties at the heart of the regime. This paper constitutes a contribution to this effort.
Keywords
Human Dignity,
Persecution,
Hate Speech,
Crimes Against Humanity,
Rwanda,
International Criminal Law
Citation Information
J.Benton Heath. "Human Dignity at Trial: Hard Cases and Broad Concepts in International Criminal Law"
George Washington International Law Review
Vol. 45 (2012)
Available at: http://works.bepress.com/jbenton_heath/3/