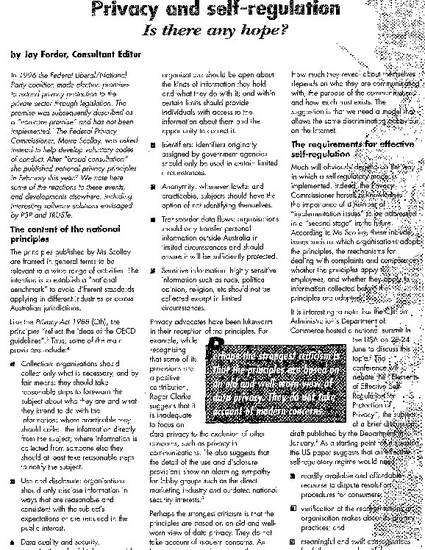 Article
Privacy and self-regulation: Is there any hope?
Law Faculty Publications
Date of this Version
7-1-1998
Document Type
Journal Article
Abstract
[Extract] /n 1996 the Federa/ Libera//Nationa/ Party coalition made election promises to extend privacy protection to the private sector through legislation. The promise was subsequently described as a non-core promise and has not been implemented. The Federal Privacy Commissioner, Moira Scollay, was asked instead to help develop voluntary codes of conduct. After "broad consultation" she published national privacy principles in February this year. We note here some of the reactions to these events, and developments elsewhere, including interesting software solutions envisaged by P3P and TRUSTe.
Citation Information
Jay Forder. "Privacy and self-regulation: Is there any hope?" (1998)
Available at: http://works.bepress.com/jay_forder/25/