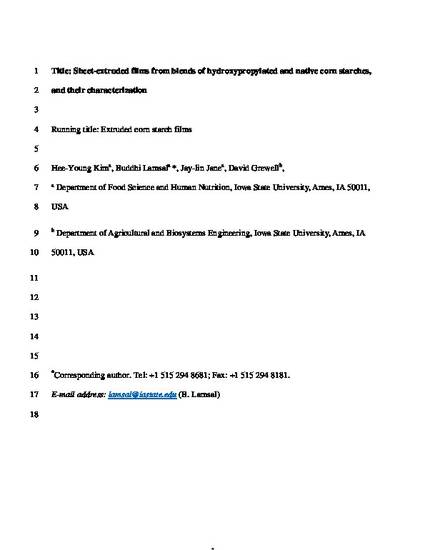 Article
Sheet‐extruded films from blends of hydroxypropylated and native corn starches, and their characterization
Journal of Food Process Engineering
Publication Version
Submitted Manuscript
Publication Date
8-16-2019
Abstract
Sheet‐extruded films from the blends of hydroxypropylated normal corn starch (HP) and native normal corn starch (NS) at weight ratios of 100:0, 90:10, 70:30, 50:50, 30:70, and 0:100 were prepared and characterized. Glycerol and water were added as plasticizers at 11 and 27% starch weight, respectively. The highest tensile strength (TS) and longest elongation to break (EB) for dry films were observed at 70:30 HP: NS ratio, which was 25.76 MPa, and 3.97%, respectively. However, TS and EB of this 70:30 blend extruded starch film exhibited low resistance upon wetting for 10s. The film TS and EB were reduced to 13.26 MPa and 3.35%, respectively. Addition of 0.5% (wt/wt starch) succinic acid (SA) as a cross‐linker to 70:30 HP: NS starch blend before film extrusion positively affected both TS and EB of films upon wetting; rather higher TS (16.64 MPa) and EB (4.85%) values were observed, which indicated improvement in water resistance of the films. Sheet‐extruded films from 70:30 HP: NS blends resulted in improved dry strength, and upon cross‐linking with SA, improved wet strength as well. The films had smooth and compact structure, which was explained by esterification/transesterification reactions promoted by SA, and confirmed by Fourier‐transform infrared spectroscopy analysis.
Copyright Owner
Wiley Periodicals, Inc.
File Format
application/pdf
Citation Information
Hee-Young Kim, Buddhi P. Lamsal, Jay-lin Jane and David A. Grewell. "Sheet‐extruded films from blends of hydroxypropylated and native corn starches, and their characterization"
Journal of Food Process Engineering
Vol. e13216 (2019)
Available at: http://works.bepress.com/jay-lin_jane/29/