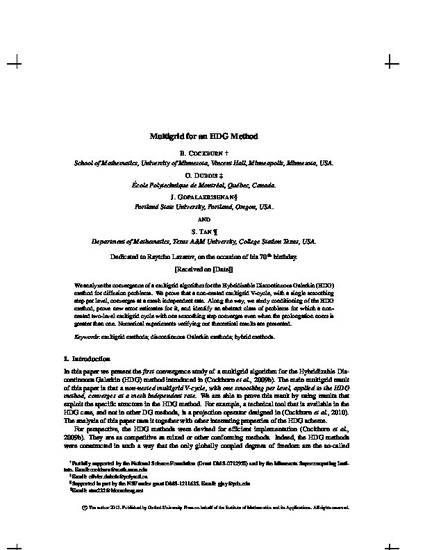 Article
Multigrid for an HDG Method
IMA Journal of Numerical Analysis
Sponsor
Partially supported by the National Science Foundation (Grant DMS-0712955) and by the Minnesota Supercomputing Institute
Publication Date
10-1-2013
Subjects
Multigrid methods (Numerical analysis),
Galerkin methods,
Discontinuous functions
Abstract
We analyze the convergence of a multigrid algorithm for the Hybridizable Discontinuous Galerkin (HDG) method for diffusion problems. We prove that a non-nested multigrid V-cycle, with a single smoothing step per level, converges at a mesh independent rate. Along the way, we study conditioning of the HDG method, prove new error estimates for it, and identify an abstract class of problems for which a nonnested two-level multigrid cycle with one smoothing step converges even when the prolongation norm is greater than one. Numerical experiments verifying our theoretical results are presented.
Rights
© 2013 by Cambridge University Press.
DOI
10.1093/imanum/drt024
Persistent Identifier
http://archives.pdx.edu/ds/psu/10594
Citation Information
Published as: Cockburn, B., Dubois, O., Gopalakrishnan, J., & Tan, S. (2014). Multigrid for an HDG method. IMA Journal of Numerical Analysis, 34(4), 1386-1425.