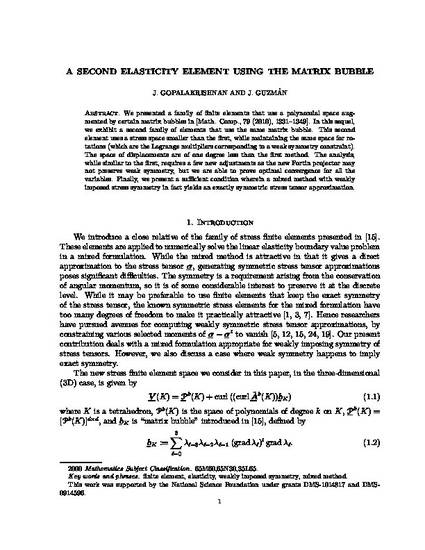 Article
A Second Elasticity Element Using the Matrix Bubble
IMA Journal of Numerical Analysis
Sponsor
This work was supported by the National Science Foundation under grants DMS-1014817 and DMS- 0914596.
Publication Date
1-1-2011
Subjects
Finite element method,
Boundary value problems,
Elasticity
Abstract
We presented a family of finite elements that use a polynomial space augmented by certain matrix bubbles in Cockburn et al. (2010) A new elasticity element made for enforcing weak stress symmetry. Math. Comput., 79, 1331–1349 . In this sequel we exhibit a second family of elements that use the same matrix bubble. This second element uses a stress space smaller than the first while maintaining the same space for rotations (which are the Lagrange multipliers corresponding to a weak symmetry constraint). The space of displacements is of one degree less than the first method. The analysis, while similar to the first, requires a few adjustments as the new Fortin projector may not preserve weak symmetry, but we are able to prove optimal convergence for all the variables. Finally, we present a sufficient condition wherein a mixed method with weakly imposed stress symmetry in fact yields an exactly symmetric stress tensor approximation.
Rights
© The author 2011.
DOI
10.1093/imanum/drq047
Persistent Identifier
http://archives.pdx.edu/ds/psu/10624
Citation Information
Published as: Gopalakrishnan, J., & Guzmán, J. (2012). A second elasticity element using the matrix bubble. IMA Journal of Numerical Analysis, 32(1), 352-372.