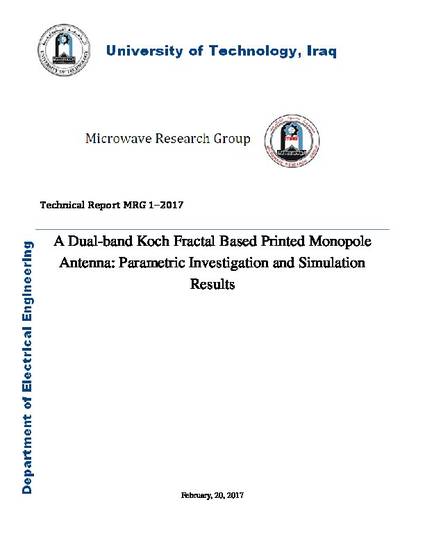 Unpublished Paper
A Dual-band Koch Fractal Based Printed Monopole Antenna: Parametric Investigation and Simulation Results
Technical Report MRG 1–2017 (2017)
Abstract
Fractal geometries are successfully applied to produce antennas with compact sizes and multi-resonant behavior. In this report, a microstrip line fed printed monopole antenna has been introduced as a candidate for use in the dual-band WLAN applications. The radiating element of the proposed antenna is a printed square patch with its sides modified in the form of the 3rd iteration Koch fractal curve. A reduced ground plane is to be etched on the reverse side of the substrate. The presented antennas have shown to offer a dual-band resonant behavior with frequency ratio of about 2.41; resulting in bandwidths, for return loss ≤−10 dB, covering the WLAN band standards. The proposed antenna structure has been modified by providing the edges of the ground plane with conducting stubs to be equivalent to a virtual ground extension. The resulting antenna radiating element size is of about 19.1 mm × 19.1 mm, using a substrate with relative dielectric constant of 4.4 and 1.6 mm thickness. A parametric study reveals that the proposed antennas are able to offer dual-band performance with considerable ratio of resonant frequencies covering the existing 2.4/5.2/5.8 GHz wireless local area networks (WLAN) and applications besides many other communication services.
Keywords
Fractal Antenna,
Koch Fractal Geometry,
Dual-band Antenna,
Compact Antenna
Publication Date
February 22, 2017
Citation Information
Mahmood T. Yassen, Mohammed R. Hussan, Hussain A. Hammas, Ali J. Salim, et al.. "A Dual-band Koch Fractal Based Printed Monopole Antenna: Parametric Investigation and Simulation Results"
Technical Report MRG 1–2017
(2017)
Available at: http://works.bepress.com/jawad_ali/85/