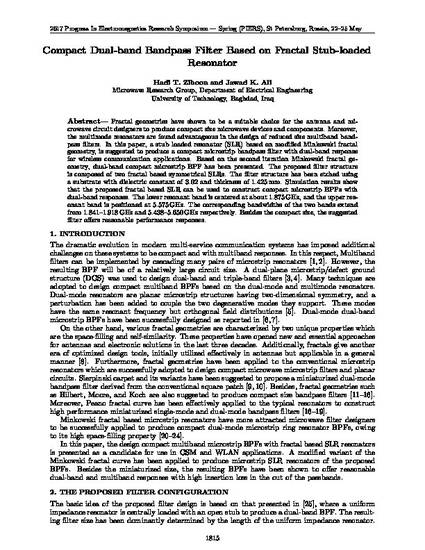 Presentation
Compact Dual-Band Bandpass Filter Based on Fractal Stub-Loaded Resonator
Progress in Electromagnetics Research Symposium, PIERS 2017 (2017)
Abstract
Fractal geometries have shown to be a suitable choice for the antenna and microwave circuit designers to produce compact size microwave devices and components. Moreover, the multimode resonators are found advantageous in the design of reduced size multiband bandpass filters. In this paper, a stub loaded resonator (SLR) based on modified Minkowski fractal geometry, is suggested to produce a compact microstrip bandpass filter with dual-band response for wireless communication applications. Based on the second iteration Minkowski fractal geometry, dual-band compact microstrip BPF has been presented. The proposed filter structure is composed of two fractal based symmetrical SLRs. The filter structure has been etched using a substrate with dielectric constant of 3.02 and thickness of 1.425 mm. Simulation results show that the proposed fractal based SLR can be used to construct compact microstrip BPFs with dual-band responses. The lower resonant band is centered at about 1.875 GHz, and the upper resonant band is positioned at 5.575 GHz. The corresponding bandwidths of the two bands extend from 1.841–1.918 GHz and 5.438–5.650 GHz respectively. Besides the compact size, the suggested filter offers reasonable performance responses.
Keywords
Dual-Band BP Filter,
Stub-Loaded Resonator,
Minkowski fractal geometry
Publication Date
May 22, 2017
Location
St Petersburg, Russia
Citation Information
Hadi T. Ziboon and Jawad K. Ali, "Compact Dual-Band Bandpass Filter Based on Fractal Stub-Loaded Resonator," Progress in Electromagnetics Research Symposium, PIERS 2017, pp. 1815-1819, St Petersburg, Russia, May 22-25, 2017.