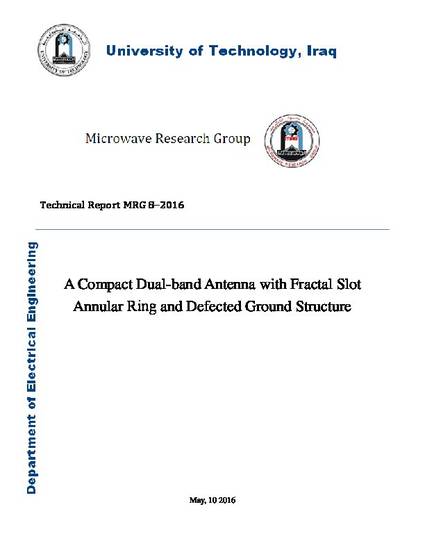 Unpublished Paper
A Compact Dual-band Antenna with Fractal Slot Annular Ring and Defected Ground Structure
Technical Report MRG 8–2016 (2016)
Abstract
An innovated way for designing a dual band slot antenna has been adopted to serve the wireless communication applications in this paper. The intended design of the proposed antenna is based on the annular slot-ring with a Koch snowflake fractal geometry of the third iteration applied to its outer and inner perimeters. The proposed antenna has a compact size of (40 × 40 × 1.6) mm3. The antenna slot structure has been etched on the ground plane of an FR-4 substrate with relative permittivity of 4.4 and 1.6 mm thickness. On the other side of the substrate, a microstrip line has been as the antenna feed structure. A study of current distribution analysis has been conducted to improve the antenna performance at the two resonant bands. Furthermore, a triangular shaped defected ground structure (DGS) has been applied on the ground plane as a tuning means of the resonant bands. The gained results proved that the proposed antenna could excite three resonant modes. The first one was assigned for the lower resonating band from (2.26 - 2.99) GHz, while the second and third modes have been merged forcibly to generate the upper resonating band from (4.6 - 5.52) GHz. All stages of design along with performance evaluation of different simulated parameters of the proposed antenna have been carried out using computer software technique CST Microwave Studio.
Publication Date
May 10, 2016
Citation Information
Mahmood T. Yassen, Mohammed R. Hussan, Hussain A. Hammas and Jawad K. Ali, "A Compact Dual-band Antenna with Fractal Slot Annular Ring and Defected Ground Structure ," Technical Report, MRG 8–2016, Microwave Research Group, Department of Electrical Engineering, University of Technology, Iraq, May 10, 2016.