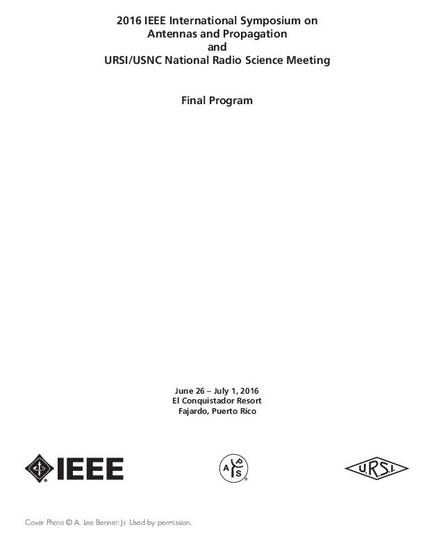 Presentation
A Dual Circularly Polarized Patch Antenna for Broadband MilliMeter Wave (MMW) Communication Systems
2016 IEEE International Symposium on Antennas and Propagation/USNC-URSI National Radio Science meeting (2016)
Abstract
An aperture coupled circular patch antenna is presented for dual circular polarization at Ka-band. Two microstrip lines are used to excite a circular patch through two slots to generate a broadband RHCP and LHCP radiation with high isolation between them. An aperture coupling is employed to provide a wide beamwidth axial ratio. The proposed antenna is a good element candidate to be considered for compact polarization reconfigurable phased array antennas. The simulated results of the presented antenna show a10 dB impedance bandwidth of more than 15.1% with very good isolation bandwidth. Furthermore, it shows a 3 dB axial-ratio of 13.9% at 30 GHz. Additionally, it acquires an axial ratio less than 3 dB over ± 50o beamwidth for 2.2 GHz bandwidth.
Keywords
Ka-band antenna;,
circular polarization,
satellite communication
Publication Date
June 28, 2016
Location
Fajardo, Puerto Rico
DOI
10.1109/APS.2016.7696005
Citation Information
Hussam Al-Saedi, Jawad K. Ali, Wael M. Abdel-Wahab, S. Gigoyan, and Safieddin Safavi-Naeini, "A Dual Circularly Polarized Patch Antenna for Broadband MilliMeter Wave (MMW) Communication Systems," 2016 IEEE International Symposium on Antennas and Propagation/USNC-URSI National Radio Science meeting, Fajardo, Puerto Rico, June 26 - July 1, 2016.