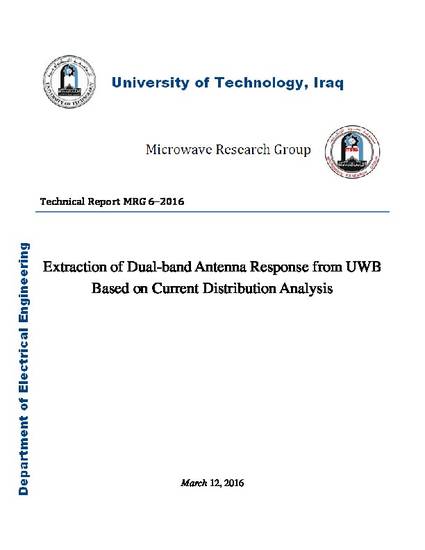 Unpublished Paper
Extraction of Dual-band Antenna Response from UWB Based on Current Distribution Analysis
Technical Report MRG 6–2016 (2016)
Abstract
In this report, a new design technique of printed dual-band monopole antenna is introduced. The design proposed is essentially based on the ultra-wide band (UWB) printed monopole antenna structure. Furthermore, the philosophy of the proposed technique is based on the fact that the resonant behavior of any UWB antenna is composed of a large number of resonant bands coupled together to form the resulting response. These resonant bands have been attributed to the different parts of the antenna structure. This can be monitored by examining the current distributions at the surface of antenna structure at these bands. The dual-band behavior of the antenna can be extracted from UWB one through the modifications on the different parts of the antenna structure with the aid of the related current distribution. The presented antennas have been modeled using a substrate having 1.6 mm thickness and a relative dielectric constant of 4.6, and have been fed with a 50 Ohm coplanar waveguide (CPW) transmission line. Modeling and performance evaluation of the antennas presented in this report have been carried out using the commercially available Computer Simulation Technique (CST) EM simulator. Furthermore, it has been found that applying the fractal geometry on the radiating element, results in an enhanced resonance of the dual band antenna and a better coupling of the obtained resonating bands.
Publication Date
March 12, 2016
Citation Information
Yassen, M. T., J. K. Ali, M. R. Hussan, H. Alsaedi and A. J. Salim "Extraction of Dual-band Antenna Response from UWB Based on Current Distribution Analysis," Technical Report, MRG 6–2016, Microwave Research Group, Department of Electrical Engineering, University of Technology, Iraq, March 12, 2016.