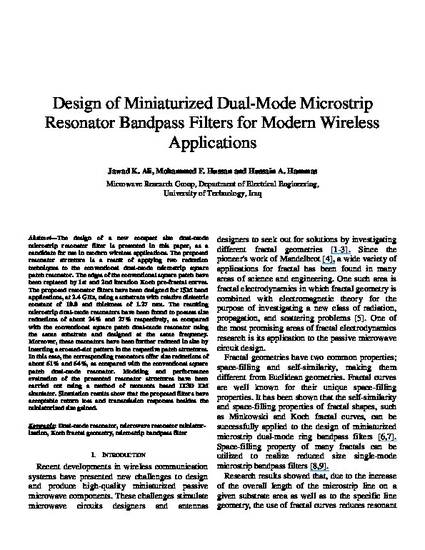 Presentation
Design of Miniaturized Dual-Mode Microstrip Resonator Bandpass Filters for Modern Wireless Applications
University of Babylon 2nd Scientific Conference, 2011, Babylon, Iraq (2011)
Abstract
The design of a new compact size dual-mode microstrip resonator filter is presented in this paper, as a candidate for use in modern wireless applications. The proposed resonator structure is a result of applying two reduction techniques to the conventional dual-mode microstrip square patch resonator. The edges of the conventional square patch have been replaced by 1st and 2nd iteration Koch pre-fractal curves. The proposed resonator filters have been designed for ISM band applications, at 2.4 GHz, using a substrate with relative dielectric constant of 10.8 and thickness of 1.27 mm. The resulting microstrip dual-mode resonators have been found to possess size reductions of about 24% and 27% respectively, as compared with the conventional square patch dual-mode resonator using the same substrate and designed at the same frequency. Moreover, these resonators have been further reduced in size by inserting a crossed-slot pattern in the respective patch structures. In this case, the corresponding resonators offer size reductions of about 61% and 64%, as compared with the conventional square patch dual-mode resonator. Modeling and performance evaluation of the presented resonator structures have been carried out using a method of moments based IE3D EM simulator. Simulation results show that the proposed filters have acceptable return loss and transmission responses besides the miniaturized size gained.
Keywords
Dual-mode resonator,
microwave resonator,
Koch fractal geometry,
microstrip bandpass filter
Citation Information
Jawad K. Ali, Mohammed F. Hasan and Mohammed R. Hussan. "Design of Miniaturized Dual-Mode Microstrip Resonator Bandpass Filters for Modern Wireless Applications"
University of Babylon 2nd Scientific Conference, 2011, Babylon, Iraq
(2011)
Available at: http://works.bepress.com/jawad_ali/57/