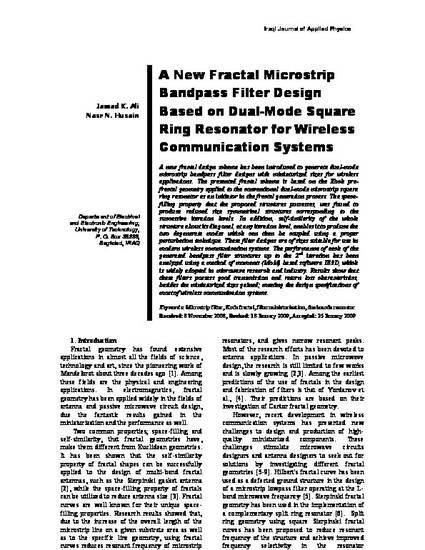 Article
A New Fractal Microstrip Bandpass Filter Design Based on Dual-Mode Square Ring Resonator for Wireless Communication Systems
Iraqi Journal of Applied Physics (2009)
Abstract
A new fractal design scheme has been introduced to generate dual-mode
microstrip bandpass filter designs with miniaturized sizes for wireless
applications. The presented fractal scheme is based on the Koch prefractal
geometry applied to the conventional dual-mode microstrip square
ring resonator as an initiator in the fractal generation process. The spacefilling
property that the proposed structures possesses, was found to
produce reduced size symmetrical structures corresponding to the
successive iteration levels. In addition, self-similarity of the whole
structure about its diagonal, at any iteration level, enables it to produce the
two degenerate modes which can then be coupled using a proper
perturbation technique. These filter designs are of sizes suitable for use in
modern wireless communication systems. The performance of each of the
generated bandpass filter structures up to the 2nd iteration has been
analyzed using a method of moments (MoM) based software IE3D, which
is widely adopted in microwave research and industry. Results show that
these filters possess good transmission and return loss characteristics,
besides the miniaturized sizes gained; meeting the design specifications of
most of wireless communication systems.
Keywords
Microstrip filter,
Koch fractal,
filter miniaturization,
dual-mode resonator
Citation Information
Jawad K. Ali and Nasr N Hussain. "A New Fractal Microstrip Bandpass Filter Design Based on Dual-Mode Square Ring Resonator for Wireless Communication Systems"
Iraqi Journal of Applied Physics
Vol. 5 Iss. 1 (2009) p. 7 - 12
Available at: http://works.bepress.com/jawad_ali/42/